Education and Early Childhood Learning

Cary Miller
October 2021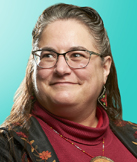 Home Community:
Descended from St. Croix and Leech Lake communities
Cultural Identity:
Anishinaabe
Current Position:
Associate Professor, Department of Native Studies and Indigenous Lead, Faculty of Arts, University of Manitoba
Education/Training:
BA University of Iowa, MA & PhD University of North Carolina at Chapel Hill
Roles/Responsibilities:
I teach undergraduate students and graduate students. But as the Indigenous Lead for the Faculty of Arts, a role I am still learning, I offer structured training in Indigenous history, legacy of residential schools, Indigenous law, Indigenous-crown relations and skills-based training in intercultural competency, conflict resolution and anti-racism; work with UW to create a jointly offered Indigenous Languages program; support Indigenous community requests for partnerships with researchers in the faculty, and other projects.
"When you see a problem, look at what you can do to solve it, sometimes by making even the smallest adjustment of things already under your control."
What obstacles did you face and how did you overcome them?
As a 60's scoop survivor, I struggled with racism and identity issues until I was able as an adult to unseal my adoption records and attend ceremony to learn about myself. When you have parents who don't understand racism because they have not experienced it, they don't understand what you are going through when you face it. I attended ceremony and higher education to answer my questions, but instead found more – leading to life as an academic researcher. Recognizing the colonial frames of so many attitudes, policies, and even written histories that did not allow view of our communities in their robust, sophisticated, economies, governance, and technological advancement, I worked to join scholars focusing on agency – on the successes Indigenous people have achieved over time in the face of oppressive historical forces that leads to survivance and enduring legacies. Recovering our strengths and successes from an historical legacy long suppressed is one of the primary ways I strive to overcome racism whether directed at me personally or at my community.
What or who inspired you to really go after the profession you are in now?
My adopted parents were both teachers – my mother at a high school, and my father at a university. Sometimes I say that continuing to live in the teaching profession means I never have to grow up – just continue the teaching and learning that surrounded me in my youth. But, I was also enormously inspired by Mary O'Donnell whom I worked under in my first university appointment in 1995-96 when she served as dean of the School of Native Education and Training for Sault College in Sault Ste. Marie, ON. It was the first time I had the opportunity to work in a teaching environment where all the staff, teachers and most of the students were Anishinaabeg, where our language was required for the students to graduate and often rang in the halls. She had a quiet conviction in the role of consensus and bringing all voices to the table to improve our programs. I hope that I am able to emulate not only her ability to bring people together, but also her kindness and recognition of the work of the group in achieving the whole.
What critical choices or decisions did you make that helped you get where you are today?
When I attended the University of Iowa for my undergraduate degree, there were no classes in Indigenous Studies, and certainly no degree programs. I moved on to graduate school wanting to gain the knowledge necessary to offer the courses I sought, but had no access to as an undergraduate student.
Message of Encouragement:
When you see a problem, look at what you can do to solve it, sometimes by making even the smallest adjustment of things already under your control. You'll be surprised how far the ripples of such an effort can extend. You may even have a far larger impact than you expect.
---