Education and Early Childhood Learning

Stephanie Midford – Ciipehtakwaaw Kiisik Iskwew
(Blue Sky Women)
January 2020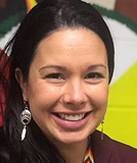 Home Community:
I grew up in Winnipeg, but I am also a member of Peguis First Nation
Cultural Identity:
First Nation, Cree and Saulteaux
Current Position:
Indigenous Graduation Coach at St. John's High, Winnipeg School Division
Education/Training:
Following grade 12 graduation, I enrolled in the Integrated Bachelor of Arts and Education program at the University of Winnipeg, graduating in June 2005. I completed my Post Baccalaureate in Special Education at the University of Manitoba in May 2012. My next step is to pursue my Master's degree in Land Based Indigenous Education at the University of Saskatchewan.
"Lead with your heart! Always look for the positive in yourself, others and in every situation even when it is hard."
What or who inspired you to really go after the profession you are in now?
In grade 8, I had a very caring teacher who supported students with learning opportunities that was conducive to how the student learned best. A lot of the learning we did was inquiry based and she encouraged our learning to be demonstrated in various ways through our strengths/gifts. She instilled in me the love for lifelong learning and nurtured the curious learner that I am today
My family have always supported me and encouraged me to follow my heart and have instilled in me to always continue learning and to try new things.
Roles and Responsibilties
The main aspect of the Indigenous Graduation Coach Program is to increase graduation rates amongst our Indigenous students. At St. John's High School, I have the honor of serving our grades 9-12 Indigenous students along with the staff to help improve attendance, grades and credit attainment. One main task that I pride myself in is advocating for students.
I want to support every student in building his or her capacity to be independent and to thrive with his/her gifts to be an amazing strong individual.
I work very closely with the student services team (guidance counsellors, integrated special education teacher, and community outreach workers) and administration to create a circle of support around each student to break down barriers they may be experiencing. As a team, we create plans with students to overcome the barrier(s) and to continue leading them on their educational journey of success.
I also connect with and involve families in the circle of support through phone conversations, meetings with student and family, or do a home visit. Regularly, I call families and share successes of their child, as I believe we always need to look at the positive, even if they are small successes.
I support students transitioning from middle years to high school; from high school to post-secondary and/or the work force by meeting with students to help support them on their next steps after high school. One of my passions as Grad coach is to continuously create a sense of belonging at St. John's High School through culture by providing extra-curricular opportunities for students where they can earn an extra credit while learning more about our beautiful culture and their own identity.
What critical choices or decisions did you make that helped you get where you are today?
I continuously live by the phrase that "everything happens for a reason." I believe that the Creator always puts you where you need to be. As a lifelong learner, I like to have my doors open and welcome opportunities as they present themselves. Where I am today, is because of the people I have in my life. We know people come into our lives for a moment, a day or a lifetime. It matters not the time they spent with us but how they influenced our lives. I am thankful for each person that I have walked along side with thus far in my journey, as they have helped me in some way to where I am today.
Message of Encouragement:
Lead with your heart! Always look for the positive in yourself, others and in every situation even when it is hard. As Educators, the greatest gift we can give to our young people is to encourage them to believe in themselves, to let them know they matter, instill in them that education is the key, nurture their gifts, and that they are cared for/loved.
---