Education and Early Childhood Learning

Mona Moquin – Pimipahtawi Maskwa Iskwew
(Running Bear Women)
September 2019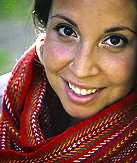 Home Community:
La Broquerie, Manitoba
Cultural Identity:
Métis with French, Anishinaabe and Cree Ancestorse
Current Position:
Teacher
Education/Training:
I received my B.A in 2013 and my B.Ed in 2016. I am currently studying for a graduate studies in Inclusion through the University of Manitoba. I can't wait to start my Masters!!
"It can be a difficult journey, but we can all help keep our Mother Earth clean. "
What obstacles did you face and how did you overcome them?
I had a hard time in high school. I had to work hard to pass my classes. After a few years of working part-time jobs, I finally had the courage to enrol into university thanks to my high school principal for encouraging me). When I told my family and friends I was a university student, they encouraged me to try it out for a semester…many semesters later, here I am, teaching!!
What or who inspired you to really go after the profession you are in now?
My high school principal, Luc Brémault. He is a wonderful person who truly cares about the students and their education. He motivated me to do what I want, to teach. Other teachers and a professor (Paulette Fournier-Jones, Raynald Dupuis and Laura Sims) saw my strengths and never gave up on me, even if I was occasionally stubborn. I excelled really well in my art classes, I found peace there and felt valued while expressing myself artistically. These teachers still inspire me to become a better person, but also a better teacher. I am so grateful to have met them.
What critical choices or decisions did you make that helped you get where you are today?
Well, I am not sure that this qualifies as "critical" but it was a decision that I made that has changed my priorities. During my studies, I chose to do volunteer work over getting a second part-time job. I value my French and Métis roots and want to give back to my communities. I am an active member of provincial and nonprofit committees. I learn so many things and I meet many wonderful people all while doing volunteer work. In the end, I grow as a person and (hopefully) I bring good things others around me.
Message of Encouragement:
A message that has been coming to me more often lately is to be kind, and to maintain an open mind and spirit. We are all human and we all want to be happy. Everyone deserves the same human rights. We should all be concerned about our neighbours and their rights. I would also like to encourage others to actively think about their carbon footprint. I would love to see a healthier environment. It can be a difficult journey, but we can all help keep our Mother Earth clean.
---