Education and Early Childhood Learning

Winston Hrechka - Munro
December 2010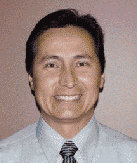 Home Community:
Sapotaweyak Cree Nation and Cowan, MB
Cultural Identity:
Cree
Current Position:
Aboriginal Academic Achievement Facilitator
and High School Teacher
Education/Training:


Bachelor of Education Degree



Roles/Responsibilty:
To research, coordinate and implement new trends in the field of Aboriginal Education. In the hopes of providing opportunity for our Aboriginal student body so they may become positive role models and become productive members of our multicultural society.
"Believe in yourself because we all have something to offer the world and the world is waiting for you!"
What obstacles did you face and how did you overcome them?
The greatest obstacle which I had to overcome was self-confidence in the immediate world surrounding me. I was able to overcome this by building a network of positive people around me that were very supportive. Developing a support system was critical for my well-being.
What or who inspired you to really go after the profession you are in now?
I was fortunate enough to encounter teachers who took the time to provide me with guidance and encouragement. This was the most important factor for me to pursue a career in education.
What critical choices or decisions did you make that helped you get where you are today?
I felt the most critical decision I made was to enter university and challenge myself in a whole new way. I am either going to succeed or I am going to fail. I felt if I could make it through university then I knew I would be able to succeed in any area of Education. This was a big risk and I am proud of myself for taking that risk for I have encountered so many wonderful people in this profession.
Message of Encouragement:
Do you believe? Do you believe in yourself? That is where IT must come from first. The IT is faith, spirit, perseverance, motivation, willingness to listen, willingness to accept criticism, willingness to continue after failure, willingness to be a risk taker and accepting results which may not be to your liking and most importantly PATIENCE! We all have these qualities in us. If I can succeed everyone can succeed, believe! Believe in yourself because we all have something to offer the world and the world is waiting for you!
---