Education and Early Childhood Learning

Pinesew asini otehi (Thunderbird Stone Heart)
David Swanson
November 2013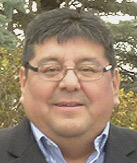 Home Community:
Kinosew Sipi (Norway House)
Cultural Identity:
Ininew (Cree)
Current Position:
Area 5 Superintendent - Frontier School Division
Education/Training:
Attended Confederation College – Recreational Leadership Program in Thunder Bay, ON; Bachelor of Social Work Program in Thompson, MB and received my Bachelor of Education Degree from the University of Brandon – PENT Program.
Roles/Responsibilty:


As Area Superintendent, I am responsible for the Administration of Education through the Public Schools Act as set out by the Province of Manitoba; under the direction of Frontier School Division, and the Tuition Agreement between the Norway House Cree Nation and Frontier School Division.

I oversee operations of Jack River School, Helen Betty Osborne Ininew Education Resource Centre, the Transportation and Maintenance Departments, Area 5 Office and Employees with Frontier School Division in Norway House of over three hundred.

I am also entrusted with the Science and Aboriginal Language and Culture Portfolio for Frontier School Division.
"...unless a child learns about the forces which shaped him: the history of his people, their values and customs, their language, he will never really know himself or his potential as a human being."
What obstacles did you face and how did you overcome them?
Once I make a decision and set a goal regarding daily and life matters; I will then set to work on the logistics and how to reach that goal. Once I made the decision to further my education; I had to decide how that was going to happen. I grew up in a large family; therefore, I was aware that funds for post-secondary school would be lacking. I applied and received student loans; and, when the PENT Program opportunity arrived, it was the right fit.

I was fortunate to have the support of key school personnel who encouraged me. Family support was also essential as my wife and two young children remained at home in Norway House while I attended Brandon University for the Spring and Summer Sessions.
What or who inspired you to really go after the profession you are in now?
My Grandfather was my greatest teacher. I spent much time with him when I was younger; and, although I wasn't aware of it at the time; he used lessons of the land to reinforce the teachings of respect, trust and self-awareness. He was a spiritual man who shared and passed on his beliefs in kichi-manito (Creator). When I was in Junior High School; the arrival of an Aboriginal Teacher made a huge impact on me. Prior to this, I was not aware of or saw an Aboriginal Teacher in this role. This immediately opened my mind to the realization that I too could become a part of the teaching profession; if I so chose to do so.
What critical choices or decisions did you make that helped you get where you are today?
I have worked as a Teacher and a Principal in Norway House. In 2004, my family and I relocated to Winnipeg at which time I was employed at the Manitoba First Nations Education Resource Centre (MFNERC) as a School Administration Specialist. During my time at MFNERC; I traveled to many of our First Nations Schools; which opened my eyes to education services and afforded me the opportunity to network with other First Nations Educational Systems. In my current role as Area Superintendent; I know I can make a bigger impact and have meaningful discussions with students, parents, school personnel and community leadership as we all move forward together; working together to ensure student success.
Message of Encouragement:
I am passionate, have a vision and I'm a staunch advocate of Aboriginal Language and Culture. I am inspired by a WAHBUNG Quote by Elders; which states…"unless a child learns about the forces which shaped him: the history of his people, their values and customs, their language, he will never really know himself or his potential as a human being". This vision for education uses teachings of the land to engage students in meaningful education and allows them to communicate learning in their own language as well as English.

I read a newspaper article recently which spoke about a group of Indigenous peoples in South America. The article stated there were only two people left in that Indigenous group who were fluent in their language; the ages of the two gentlemen were 82 and 78. This article was very difficult to read; but, reinforced how important it is that we do not lose our language as it is a main component of our culture, identity and history.
---