Education and Early Childhood Learning

Adele Ledoux
February 2015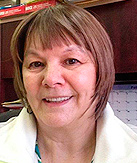 Home Community:
Duck Bay, Manitoba
Anishinaabe (Métis)
Current Position:
Frontier School Division re: Aboriginal Language and Culture Curriculum Development
Education/Training:
Bachelor's Degree from
Brandon University
re: BUNTEP program
Business Administration
certificate through International Correspondence Schools
Professional Development certificates in Curriculum, Leadership, Instruction, and Personnel
Roles/Responsibilty:
Early Years to Middle Years Curriculum Development
Teacher Professional

Development
workshops/in-services

Participant and Member in several Educational/Steering Committees

Promoting and utilizing Information, Communication and Technology (ICT)
"Listen and learn from the elders,
for they are our language and cultural lifestyle professors."
Obstacles faced:
English grammar and comprehension was an obstacle for this fluent Ojibwe speaker. Another obstacle appeared when I relocated to the city of Winnipeg and began seeking employment. Relocation meant a change in lifestyle from rural to urban living. Raising a family and deciding to enroll in a degree program was the most challenging obstacle. Learning to juggle family responsibilities; along with a full-time student's workload, required time management skills, patience and perseverance.
Inspiration:
Inspiration came from my grandparents. My paternal grandmother spoke very little English, but was fluent in Cree, always insisted that her grandchildren speak in Cree otherwise they should sit, listen, and learn.
My grandparents believed that achieving an education would lead to employment, independence and a decent living. We were told that morals, values, respect for life and the environment should be practiced in our everyday lives.
Critical choices/decisions:
I was always curious as a child and asked a lot of questions, so the transition into the educational profession seemed a natural progression. Teaching was not just a job, it quickly became my passion; it provided me with the opportunity to promote our native language, culture and history.
Encouragement:
Listen and learn from the elders, for they are our language and cultural lifestyle professors. They have gained a lifetime of experience, with an abundance of knowledge that shape our cultural identity. Learn your language so you can communicate with the Elders and benefit from their colorful, descriptive narratives revealed as they speak of times long ago.
---