Education and Early Childhood Learning

Karen Froman
November 2011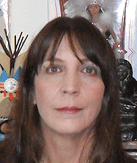 Home Community:
Six Nations and Winnipeg
Cultural Identity:
Mohawk Canadian
Current Position:
Sessional Instructor
Education/Training:
BA (Adv.) in Native Studies and History, MA in Native Studies, University of Manitoba
Roles/Responsibilty:
As a single mother and an educator, my role has been to teach my children and my students that we have rich and beautiful histories and cultures that we should know and be proud of. I have been told by several Elders that my role in the community is to "build bridges" between our two worlds to help all Canadians understand and respect each other.
"No matter what your age, or how long it may take to finish, never give up on your education..."
What obstacles did you face and how did you overcome them?
When I first considered attending university, I was a 27 year old divorced mother of 2 toddlers and a high school drop-out. I knew that my waitressing job skills wouldn't be enough to give my children the life I wanted for them, and that education was my ticket out of poverty but I had no idea where it would take me. I applied to and was accepted into the University of Manitoba ACCESS program as a mature student where I registered for a general Arts course load. Even though I was dedicated to my education, I feel that without the support of my family, the ACCESS program, the Aboriginal Student Centre and the professors in the Departments of Native Studies and History I may not have obtained my degrees.
What or who inspired you to really go after the profession you are in now?
If someone had told me ten years ago that I would end up as a post-secondary instructor, I would have laughed. I never would have imagined myself going on to graduate school and teaching at the university level. In some ways, I was "gently pushed" into academia by several of my professors. The one who first inspired me and the first teacher to tell me that I was smart enough for graduate school was Dr. Fred Shore. It was Dr. Shore's teaching style that I admired and his dedication to Aboriginal issues that inspired me to "follow in his footsteps".
What critical choices or decisions did you make that helped you get where you are today?
The simple decision to attend university and to go on to graduate school is how I ended up teaching, and for me, it is also a way to "give back" to the community.
Message of Encouragement:
No matter what your age, or how long it may take to finish, never give up on your education because you never know in what amazing direction it may take you.
---