Education and Early Childhood Learning
Hilda Angela Fisher
January 2011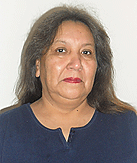 Home Community:
Bloodvein First Nation, MB.
Cultural Identity:
Ojibway
Current Position:
Special Education Teacher/Vice Principal at Miskoseepi School in Bloodvein
Education/Training:
I received my 4th Year Bachelor of Education at Brandon University. I received a 5th Year Post Baccalaureate Degree in Education and a Certificate in Special Education from the University of Manitoba. I am currently enrolled in the Masters of Education program at Brandon University.
Roles/Responsibilty:
My role and responsibility is to deliver and help establish the best education system to the children of Miskoseepi School. Another role is to help teachers develop strategies and techniques to educate all children at Miskooseepi School.
"Finish school and education will show you the world and how to survive in this world."
What obstacles did you face and how did you overcome them?
I am a single mother of three boys and two girls. I recently lost a son which is pretty hard for my children and me. I have eight grandchildren. I have four brothers and four sisters. I am the middle child of my family. Early on, the first obstacle I faced was leaving home. I remember I was scared when I arrived in Winnipeg to attend school. With a good home provided for me I was able to continue high school. At high school I played sports to occupy my time.
What or who inspired you to really go after the profession you are in now?
With only one month remaining of school I dropped out of Grade 11 in Winnipeg. When I returned to Bloodvein a community member came to me and he said "Hilda go back to school, your dad would have wanted you to finish school and get an education". I lost my father when I was eight and half years old. It was this thought that led me down the road of going to university and to get as much education as I could. I remember my mother used to tell me to leave Bloodvein and to get an education and to work somewhere else when I was finished. Today it is my children who encourage me to continue with my education.
What critical choices or decisions did you make that helped you get where you are today?
One of the decisions that I made was to achieve my Doctorate in Special Education. I plan to finish my Masters in Special Education at Brandon University first. I love to teach children including my grandchildren.
Message of Encouragement:
I would like to encourage everyone that you set yourself a dream and do everything in your power to fulfill your dream. Have faith, love, and pray for everyone around you. Never give up on anything you do as you are the only one who will make things come true for your children and for yourself.

Finish school and education will show you the world and how to survive in this world. Parents and grandparents need to encourage and support your children to finish school.
---