Education and Early Childhood Learning

Claudette Michell
December 2011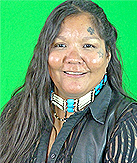 Home Community:
Formerly, The Pas, Manitoba and Family of Origin is Barren Lands First Nation but currently reside in Winnipeg, Manitoba.
Manitoba Cultural Identity: Cree – Spiritual and Ceremonial
Position:
Program Coordinator, Urban and Inner-City Studies
Education/Training:
4-year Bachelor of Arts (Hon.) Double Major Aboriginal Governance and Conflict Resolution, Aboriginal Self-Government Administration Diploma, Business Administration Diploma, Mature Grade 12 Diploma, and Life Skills Coach Certificate
"Believe you can and you will!"
My position with the University of Winnipeg's Urban and Inner-City Studies (UIC) provides me with a great deal of flexibility for continued learning and participation in the community. I make connections in the neighborhood through outreach activities such as promotion and recruitment of the program and present various opportunities for potential students. I enjoy providing support to the UIC program cohorts administratively and culturally. I also provide general office administration and management. My work with students, staff, faculty and community help support my goal of "bridging the gap" between community and the university. Additionally, I am a Life Skills coach and senior research assistant for the university and I consider myself a life-long learner.
What obstacles did you face and how did you overcome them?
One of the biggest obstacles I faced was balancing time between work, ceremony, school and family. The amount of family time that was given up in order to do the work necessary would not have been possible had my children not made the sacrifices and extra efforts they did. They supported me in keeping things going at home. They also put up with my hours of endless study and work, so it is with their understanding and acceptance that I was able to have the supportive strength needed to continue on my path of learning. I believe that my life goals run parallel with my dreams and visions and I do what is necessary to breathe life into those gifts.
What or who inspired you to really go after the profession you are in now?
My children, grandchildren and my mother, Adelaide continue to inspire me to dream big. With their support I have reclaimed my identity and I continue to live my dreams and visions. I always wanted to give back to the community and I feel that I am able to do this by working to support students in achieving their goals and dreams.
What critical choices or decisions did you make that helped you get where you are today?
I chose to make healthy choices. I learned to value and believe in myself in all areas of my personal medicine wheel of life. I accepted that I am a life-long learner with goals of higher education, but on a personal level the most important decision was learning how to let go of self-doubt. I found ways to do this by working hard on healing from my past. Since I began this journey, many doors have been opened for me on my path to educate myself. I value learning and I am open to new ideas and philosophies.
Message of Encouragement:
Believe you can and you will!
---