Education and Early Childhood Learning

Michel (Mike) Beaulieu
March 2011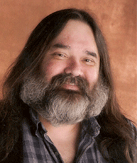 Home Community:


Sandy Bay First Nation.

Cultural Identity:
Ojibway
Current Position:
Senior Social Studies Teacher at Isaac Beaulieu Memorial School (IBMS) in Sandy Bay First Nation since September 1991.
Education/Training:


Bachelor of Education, University of Manitoba


Roles/Responsibilty:
I am responsible for teaching Grades 7- 12 Native & Social Studies. Also, I have assumed the responsibility of Staff Advisor for Grade 12 Grad Committee for my first 17 years at the school. Additionally, I submit a monthly column called, "Mike's Comedy Corner" for the IBMS e-newsletter. As well, I am a member of the School Calendar Committee and also run a Chess Club once a week at noon hour.
"Create for yourself an ambitious plan or a lofty goal."

I What obstacles did you face and how did you overcome them?
I am a recovering addict. When I was 20 years old, I really didn't think I was going to see 25. Already by that point many of my friends and relatives had died in one form or another from the disease of addiction. Fortunately, I got clean at 23.
I have been clean now for 25 years and in a recovery program.
I know surviving my accident, the overdoses, and my active addiction in general I have a very different outlook on life. Today I love to live and enjoy life. Life is too short not to. After I got clean I went back to university as a mature student. I was very scared to go to school, because the last time I was in school clean was grade 6. I was so scared I was stupid. But I had a lot of support, and I found out that if I attended class, completed the assignments, and studied for the exams, I did very well! What a relief, I wasn't stupid… it really was the drugs. University took some time and effort, but it was so worth it.
What or who inspired you to really go after the profession you are in now?
My parents, Isaac and Huguette Beaulieu, and my grandfather, Noah Beaulieu, all had a very immense and important role in inspiring me to become the man and educator I am today.
Both my parents encouraged me, supported me, and most importantly believed in me even when I was at my lowest point and I could not believe in myself.
As kids my grandfather would always make us work and tell us the importance of school. We thought he was crazy; he never even went to school. Today I know that is why he knew it was so important. He was able to instil in me a work ethic that helped me achieve my goals, and continues to guide to do my work to the best of my ability.
What critical choices or decisions did you make that helped you get where you are today?
I would have to say the most critical decision I have made is to get clean and live a spiritually principled life and continue to live that life; for nothing would have been possible, nor would be possible today, without that crucial decision. Second, is the decision to return to my home community of Sandy Bay to teach. I really feel like I am making a difference in my community and that brings about a sense of gratitude, which words cannot express.
Message of Encouragement:
Create for yourself an ambitious plan or a lofty goal. Choose the ethical way by making a personal commitment to honesty and integrity to grow personally, professionally, emotionally and spiritually, looking inward while using your heart to guide your dreams and desires combined with hard work to reach your full potential. Enjoy every moment along this journey finding laughter, love, and happiness with each day that passes.
---