Education and Early Childhood Learning

Muriel Halabisky
February 2018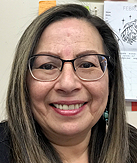 Home Community:
Misipawistik Cree Nation,
Grand Rapids
Cultural Identity:
Cree
Current Position:
Adult Education Instructor
Education/Training:
4 yr. B. Ed (PENT Program) Brandon University
Roles/Responsibilties:
Provide instruction to adult learners in all subject areas in Sr. 1-4.
Assist adult Learners with their goal setting, career planning and assist them in making decisions with post-secondary education.
"You are given a purpose in this life, find your purpose and make the best of it."
What obstacles did you face and how did you overcome them?
I grew up in a very large family; my parents were on a fixed income and could provide us only with the bare necessities. We would get by, but this wasn't the life I envisioned for myself. This played a major role in the desire to make changes for myself, my family and community. These obstacles were beneficial in a way that they inspired me to break free from the cycle of poverty and dependency that the government had forced my family into. I decided that I needed to educate myself in order to free myself from these stereotypes. I was accepted into Brandon University (PENT program) in 1991 and obtained my teaching degree in 1995.
I can't say that it was an easy road. There were many struggles along the way. Drugs, alcohol and gambling wreaked havoc on my life, to the point where they almost cost me my position at the school where I was employed. This really opened my eyes and made me realize that if I continued down this path, I would fall right back into that cycle that I was so desperate to escape from. I received help for my addictions and things are much better. Mind you, I am still learning and I will continue to learn. As long as I keep my faith and continue to ask our Creator for guidance, things will be just fine.
What or who inspired you to really go after the profession you are in now?
I recall a moment with my late grandfather, Norman Chief, we were at the kitchen table and I had a piece of paper and a pencil in my hand, I can't remember exactly what I was doing, but I do recall the conversation we were having. He asked me what I wanted to be when I grew up and I told him that I didn't know just yet. He told me that I was going to be a teacher and that I would help people. I attribute my success to those few words that he instilled in me; to teach, educate and help people so that they too can become successful. Gary Gilhen and Cyndy Shushack, who were the administrators at the time I started my career in education, also inspired me to become the educator I am today. They were so supportive and encouraged me to be the best that I could be.
Our Director of Education, Linda Ballantyne, who encouraged me to believe in myself.
Last but not least, my family, who always knew that I could do something with my life. Their encouragement and support has always been there.
What critical choices or decisions did you make that helped you get where you are today?
To become sober and clean has been one of the best decisions I could have ever made in getting me to where I am today. Drugs and alcohol have a place in my past but they have no place in my future. They have helped shape who I am but they definitely don't define who I am.
Message of Encouragement:
You are given a purpose in this life, find your purpose and make the best of it. Live a happy life, respect everything around you and always be nice to people. Pray for guidance when needed and never give up on your dreams.
---