Education and Early Childhood Learning

Dawn Dutchak
March 2020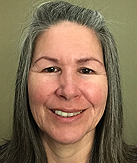 Home Community:
Camperville, MB
Cultural Identity:
Michif
Current Position:
Principal at Winnipegosis Elementary School
Education/Training:
B.Ed, Brandon University, M.Ed. Educational Administration, Brandon University
Roles/Responsibilities:
Principal and Resource in a

K–8 school
"Everyone will have good days and challenging days and the important thing is to believe in what you do."
What obstacles did you face and how did you overcome them?
The biggest challenge that I have faced was having a healthy balance between work and family. I am a strong believer in providing students opportunities to explore and develop their skills in extra-curricular activities. As a coach and a mother, I needed to be organized! I was very fortunate that my kids and husband were very patient and supportive.
What or who inspired you to really go after the profession you are in now?
I came to education as a later career. My life experiences allowed me to appreciate the tremendous responsibility that comes with being an educator. I am fortunate to be able to work with students and help them in their learning journey.
What critical choices or decisions did you make that helped you get where you are today?
I needed to remain positive and strong and not let the challenges of my responsibilities overwhelm me. I have drawn on my family, colleagues and personal wellness habits in addition to the students to help me stay focused and ready for my responsibilities.
Message of Encouragement:
Everyone will have good days and challenging days and the important thing is to believe in what you do. When I feel especially challenged in my role as Principal, I go back into the classroom or go out at recess to spend time with students. Their energy and questions remind me why I chose education as a career. I especially enjoy when they ask questions about Indigenous culture and feel honored that they view me as a person who has the knowledge and experience to help them in their knowledge journey. We all have gifts to share.
---