Education and Early Childhood Learning

Starlett Beardy
October 2017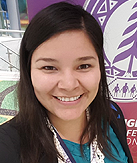 Home Community:
Cross Lake, MB
Cultural Identity:
Swampy Cree
Current Position:
High School Music and First Nations Studies Teacher
Education/Training:
Bachelor of Arts, Bachelor of Education
Roles/Responsibilties:
Administrative duties, planning for lessons, engaging students in curricula and activities, and building positive relationships with all students and staff are an ongoing, everyday responsibility.
"You have a gift to offer the world…but it is up to you to find that gift and use it for the good of all."
What obstacles did you face and how did you overcome them?
This is my first year as an educator and everyday is a learning experience. Some of the obstacles I have faced are low-income, family health issues, personal relationship issues, death of family/friend, and low self-esteem. I overcame them by asking for help when I needed it and talking to family/friends. If it not were for caring family and friends, I do not think I would be where I am today. I always talked about my problems with a trusted friend and strayed away from negative coping behaviours such as alcohol or drugs. I also kept my faith, I always prayed for better outcomes and good things to come. Kapeh ni nanaskomon.
What or who inspired you to really go after the profession you are in now?
Before I became a teacher, I was enrolled in a nursing program in Thompson. It required constant work and time, but I knew my heart was not fully into it. While going to school, I would work as a substitute teacher in my home community. After failing a single course in the program and having to withdraw, I really had to think about what I wanted to be. It was during this time that I thought about what made me happy and what helped me during my times of struggle. At the time, my granny and mom were sick, and they were in and out of the emergency unit. I was under a lot of stress, but I can remember being at the school with the kids, and this cheered me up a lot of the time. This is when I decided that I wanted to pursue a career in teaching.
What critical choices or decisions did you make that helped you get where you are today?
I made the choice to move to Winnipeg to complete my Bachelor of Arts. I applied for a job as an instructor assistant for a year (to make sure I wanted a career in education). I then applied to the education program at the University of Manitoba. I had a plan and I followed it, but it was not always easy. It was hard at times, especially losing a new friend I made in university and my uncle a year later…but I persevered, I didn't give up, I made the choice to continue.
Message of Encouragement:
If I can inspire anyone today, it would be to never give up on your dreams. No matter how small or simple. If it makes you happy, go for it! Do not let anyone tell you that you are not smart or good enough. You have a gift to offer the world…but it is up to you to find that gift and use it for the good of all. Always be proud of where you come from, keep your language, and appreciate those that help you along the way, and always remember it is okay to ask for help.
---