Education and Early Childhood Learning

Shirley Samantha Nepinak – Waabishkaa Stigwaan Migizi Ikwe (White Headed Eagle Woman)
April 2019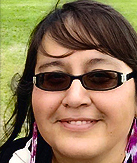 Home Community:
Camperville and Pine Creek

First Nation

Cultural Identity:
Anishinabe
Current Position:
High School English Teacher
Education/Training:
Graduated in 2005 with a B.G.S./B.Ed. Degree (Highest Distinction), Currently in Master's Degree Program through Brandon University (thesis-route).
"My early childhood experiences are still shaping who I am today. Learning is truly lifelong!"
What obstacles did you face and how did you overcome them?
When in university, I faced many challenges while raising my two young sons. My time management skills grew stronger because I had to learn to balance both home and school demands. I persevered through support from my family, especially my mother. Returning to university, my three sons and husband have encouraged and supported me in this process.
What or who inspired you to really go after the profession you are in now?
My older sister, Maryann, provided a lot of guidance and support to me when I was a high school student. She helped me become a critical thinker and writer. She just recently retired from the teaching profession and it was she who made me want to become a better teacher. I had teachers who believed in me and this made we want to be a more effective and supportive teacher.
What critical choices or decisions did you make that helped you get where you are today?
I made personal sacrifices when my children were young but I knew these decisions would provide for a better way of life for our family. It was difficult to attend university while raising my sons but my family gave me continued support and encouragement. As an educator, I continue to improve my teaching practices and attend as many professional development opportunities as I can.
Message of Encouragement:
My parents nurtured a wholehearted land-based learning philosophy into my siblings and I as we grew up. I feel that it is important for students, especially Anishinabe students, to have similar learning experiences. The traditional teachings of our culture, history, language, and ways of knowing are important aspects that should be part of the school learning environment. My early childhood experiences are still shaping who I am today. Learning is truly lifelong!
---