Education and Early Childhood Learning

Bernadine Thompson
January 2015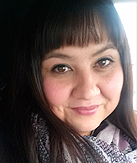 Home Community:
Maternal: Pine Creek/Camperville
Paternal: Dog Creek/Vogar
Cultural Identity:
Anishnaabe, Métis
Current Position:
Teacher, Seven Oaks School Division
Education/Training:
Bachelor of Arts, Bachelor of Education, Currently seeking my Post Bachelorette Certification in Education in Land Based Indigenous Knowledge Studies
at the University of Winnipeg.
Roles/Responsibilty:
Grades 4/5 Multi-age Teacher, planning committee member for CAEM (Council for Aboriginal Education in Manitoba), planning committee member for Manitoba Aboriginal Youth Achievement Awards (MAYAA), Aboriginal Education Group committee member at Elwick Community School, basketball and volleyball coach. It`s my responsibility to engage students to actively participate in their learning and encourage them to become respectful and responsible citizens in the community.
"Life is full of choices. You may be dealt a raw hand but you ultimately have the choice in how you lead your life."
What obstacles did you face and how did you overcome them?
I have experienced many obstacles throughout my life, but have always found a way to push through them. One of the biggest challenges was being a single mother at the age of 21. At 25, I had to make some serious life changes and choices. My son was about to enter school, and I wanted a job that worked around his schedule. At this point I was working two jobs and attending the University of Winnipeg Continuing Education to achieve my Educational Assistant Diploma. I was determined to provide a better life for my son, one that didn't include living in poverty. I definitely could not have completed the course without the supports of the faculty staff at the University of Winnipeg Continuing Education, friends and family.
What or who inspired you to really go after the profession you are in now?
My son has always been a driving force in setting and achieving goals. I am his first role model. It's very important to me that I set the right example for him. Although I was fully satisfied with my position as Educational Assistant in the Louis Riel School Division, I was intrigued when I learned of the Community-Based Aboriginal Teacher Education Program (CATEP) with the Seven Oaks School Division. I began to wonder if I could be a teacher. Me…a Teacher?! I had very limited, if any at all Aboriginal Educators throughout my life so it was definitely something new and exciting to consider. I was encouraged to apply for the CATEP program by a co-worker/mentor Susan Ciastko. She believed in me and told me that I was a natural and that I could do it. I applied and was accepted. I quickly realized that yes this was the right decision and it was not only satisfying to accomplish a personal goal but also to continue to be that role model for my son. He saw me struggle, he saw me succeed. In addition to being that role model for my son I am now fortunate enough to be working in a community and for a division that recognizes the importance of having Aboriginal Educators in their schools to help reflect the student population.
What critical choices or decisions did you make that helped you get where you are today?
Taking that giant leap of going back to university as a single mother was definitely a life changing decision that helped me get where I am today. No matter how stressful it was, the determination to accomplish something no one in my entire family had done was so rewarding. To hear my son talk of attending a post-secondary institute himself, now makes everything even sweeter.
Message of Encouragement:
Life is full of choices. You may be dealt a raw hand but you ultimately have the choice in how you lead your life. Look to positive role models in your community to help guide you. Miigwetch!
---