Education and Early Childhood Learning

Dustin Dvorak
November 2010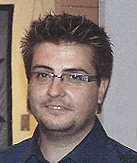 Home Community:
Winnipeg
Cultural Identity:
Metis
Current Position:
Instructor
Roles/Responsibilty:
As the ALC Education Director, I am not only a teacher and school administrator, but a mentor, counsellor and leader.
"Use any life experience as a catalyst to guide you towards
the realization of your dreams."

What obstacles did you face and how did you overcome them?
I overcame obstacles in my life through hard work, dedication and perseverance. I grew up in a relatively large, dual income, urban family. My parents were hard working and provided me with all I needed. If I wanted anything over and above what my parents could provide, I had to work and earn it myself. At 15, I was hired by the City of Winnipeg Community Service Department as a Recreation Technician, a position I held until I was 25. I knew that to pursue post-secondary education, I would have to pay for it on my own. I was accepted into University 1 at College universitaire de Saint-Boniface right out of high school. For the next 7 years, I attended full-time and worked nearly the equivalent of full-time.
What or who inspired you to really go after the profession you are in now?
My inspiration came/comes from two sources:
My parents inspired me to work hard and achieve my goals, especially my mother. Growing up, I observed my mother become a nurse, complete a Bachelor of Nursing and achieve a Masters in Public Administration. All the time she was raising four children and working full-time.

I spent 6 years running a Youth Action Centre at Isaac Brock Community Centre as an employee of the City of Winnipeg.
Within weeks of opening the doors of my program, the arson and tagging issues that plagued the neighbourhood subsided. The community, especially the youth, inspired me to enter the field of education.
What critical choices or decisions did you make that helped you get where you are today?
I believe that my education and my experiences led to my accomplishments to date. Dedicating my time to working in the community, despite the number of hours I had to spend studying at university helped me develop a relentless drive to continue to pursue goals and to achieve more and more.
Message of Encouragement:
Use any life experience as a catalyst to guide you towards the realization of your dreams.

As my parents did while I was growing up, I proudly display my Certificates, Diplomas and Degrees on the walls of my home as a reminder of what I have achieved so that I can continuously feel proud of my accomplishments.
---