Education and Early Childhood Learning

Desi-Rae Anderson
June 2020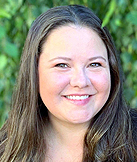 Home Community:
Gypsumville, MB/Pinaymootang First Nation
Cultural Identity:
Ojibway
Current Position:
Indigenous Graduation Coach but currently transitioning into the role of Program Coordinator for Build From Within
Education/Training:
BA, B.Ed, Post Bac (Spec. Ed)n
"When faced with the challenges in education, collaboration is key and always keep your focus on the reason we are here..."
What obstacles did you face and how did you overcome them?
Growing up in a society and school system that doesn't always value Indigenous students was a challenge. I rarely had educators that I could really connect with and that understood my Indigenous background.
Moving from a rural area to the city for university was also a tough transition. I wasn't aware of the supports that were available.
I overcame these challenges by becoming an Indigenous educator and trying to be the adult that I would have needed when I was a student. I was also fortunate to have support and encouragement from my parents.
What or who inspired you to really go after the profession you are in now?
My mom is a teacher so I grew up seeing her work hard and overcome obstacles being a First Nations woman in the education field.
I also knew that I wanted to help, learn with, and work for our Indigenous youth.
What critical choices or decisions did you make that helped you get to where you are today?
So far I have learned in my career that taking chances and embracing change provides growth. I was always willing to try teaching a new grade, learn a new curriculum, or work in positions to support and help teachers. Each year of experience and willingness to learn prepares me for an opportunity that will come in the future.
Message of encouragement:
When faced with the challenges in education, collaboration is key and always keep your focus on the reason we are here...the children and youth! They have all the answers.
---