Education and Early Childhood Learning

Ryan Cook
March 2015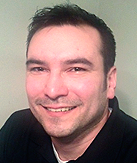 Home Community:
Misipawistik First Nation (Grand Rapids) but grew up in Winnipeg
Manitoba Cultural Identity:
Cree
Position:
Teacher, Seven Oaks School Division
Education/Training: Bachelor of Arts and Bachelor of Education at University of Manitoba
Graduate of CATEP –
Community-based Aboriginal Teacher Education Program, University of Winnipeg
Roles/Responsibilty:
Teach English, Geography,
Social Studies, History
"But one thing I've learned is you don't succeed anywhere unless you work hard every day. "
What obstacles did you face and how did you overcome them?
Juggling daily life along with school, work, and coaching hockey was probably my biggest obstacle. Surviving school financially was tough also. I coached hockey for Team Manitoba while working full time and going to school. I managed to set those things as priority in life and went from there.
What or who inspired you to really go after the profession you are in now?
I always knew I wanted to work with Aboriginal people and youth. Becoming a teacher seemed like a natural fit to combine those two. Working with the Aboriginal youth in the community I grew up in is exactly where I wanted to be.
What critical choices or decisions did you make that helped you get where you are today?
I had to leave my career as a commercial pilot to commit to going back to school. I loved flying. I loved the work. But I knew I didn't want to do it for the rest of my life and I knew I wanted to do more to make a difference for Aboriginal people. Even though I worked closely with Aboriginal people flying in and out of the remote communities in the north, I always felt like I could be doing more and have a better working relationship. I left, went back to school, and didn't look back. Now, I enjoy working as a pilot in the summer months while on holidays. I get the best of both worlds.
Message of Encouragement:
Be proud of who you are. There is no greater feeling in life than knowing you have something to be proud of. Our people flourished in this territory for thousands and thousands of years before things changed. We need to learn about the traditions and culture that allowed us to live this way. That's why education is important. It's important to learn who we are as Indigenous people and be proud. Once that happens, things will change again. It'll take some time. And it will take hard work. But one thing I've learned is you don't succeed anywhere unless you work hard every day.
---