Education and Early Childhood Learning

Brenda Myran
February 2017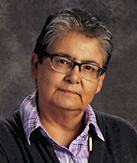 Home Community:
Long Plain First Nation
Cultural Identity:
Anishinabe
Current Position:
Grade 5 and 6 Teacher
Education/Training:
B.A. (3yr.),B.Ed.(AD),Special Education Certificate
Roles/Responsibilty:
Teach Grades 5 and 6 and make adaptations so that all learners can make progress.
"My strength comes from my people and my culture. I would encourage our young people to LEARN and practice their culture. "
What obstacles did you face and how did you overcome them?
I remember being desperate to attend school like my older siblings so I could learn to read. As soon as I entered a residential school, I encountered racism and bigotry, which continued throughout my early and junior high school years. This came from some teachers, many peers, and even from my own people. I withdrew into myself and I would lose myself in books. However, I learned how to ignore these distractions and instead I stuck with my peers who were also experiencing these same things. We were each other's support.
What or who inspired you to really go after the profession you are in now?
As a young mother in my home community I became involved in our locally controlled education system by first driving a school bus, then later by running for office in our local School Board. I felt it was important that I be involved and provide them with the best education possible since my own children were attending this school as well. This experience gave me the incentive to seek further education (even though I only had Grade10), and I moved away to enroll in University. In my first year, I was full of trepidation and apprehension, and I had over-extended myself as my children were still quite small and ensuring their well-being was of primary concern. I surprised myself by doing well in my studies and went on to complete that degree as well and the next one.
What critical choices or decisions did you make that helped you get where you are today?
In my first year of teaching, I was assigned a Grade One class that had already been through four other teachers in their Kindergarten year. The class had very high needs; there were cases of violence and sexual abuse, abandonment, a suicidal six year old and some aggressive and violent young boys.This year made me realize that I was totally unprepared to handle the myriad of issues that my students were facing in their lives, let alone their learning needs, which is why I returned to University to learn more and eventually earned my Special Education certification.
Message of Encouragement:
My strength comes from my people and my culture. I would encourage our young people to LEARN and practice their culture. It provides me with a sense of balance and security as I work to provide my students (of all races) with a First Nations role model
---