Education and Early Childhood Learning

Joel Boyce
April 2014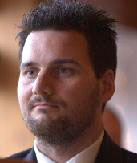 Home Community:
Winnipeg
Manitoba Cultural Identity:
Métis
Position:
Science and Mathematics Teacher at the Louis Riel Institute
Education/Training: Bachelor of Science (Physics, Mathematics) and Bachelor of Education (Senior Years Stream) from the University of Winnipeg
Roles/Responsibilty:
Determine annual math and science course offerings and create and administer in-class, independent study, and web-based credit options for each. Assess numeracy skills of incoming students and work with our intake specialist to create specialized learning plans as necessary. Plan field experiences, guest speakers, and special events with other teachers and students.
"Learn to love a challenge."
What obstacles did you face and how did you overcome them?
Money was rarely in excess when I was growing up. From my first year in high school to my last year of university, I rarely worked less than 30 hours a week, but I never thought of paying my own way through school as an obstacle. My family had always instilled in me the idea that anything worth having is worth working for, and it wouldn't have crossed my mind to consider the difficulty of my goals as any kind of personal tragedy.
Of course, at the time I took for granted all the invisible family support I received: a safe place to live; adults modelling attitudes for success; the ever-present assumption that I could and would meet my goals.
What or who inspired you to really go after the profession you are in now?
When I finished my physics degree, the obvious options were two more years to become an engineer, or two more years to become a teacher. Thinking back to how much fun I'd had in science class over the years, I just thought I would enjoy teaching more. And it's been a blast so far.
What critical choices or decisions did you make that helped you get where you are today?
I decided early on that I didn't ever want to stop growing and improving in my profession. Every time you stretch yourself as a teacher, you open opportunities to stretch even further. Stepping out of your comfort zone is the best, perhaps the only way to truly broaden your expertise.
Message of Encouragement:
Learn to love a challenge. The world is a better place when you realize you're surrounded by opportunities to prove yourself rather than chances to fail.
---