Education and Early Childhood Learning

Lorie Henderson
March 2014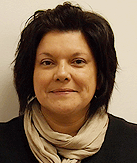 Home Community:
Thompson, Manitoba
(OCN band member)
Cultural Identity:
Cree Canadian
Position:
Superintendent of Educational Services and Programming, School District of Mystery Lake, Thompson, Manitoba
Education/Training:
Bachelor of Education (BU),
Master of Education (Educational Administration) (BU), currently finishing up my last few courses in Special Education for a second masters (BU)
Roles/Responsibilty:


My area of responsibility in the district is the programming and educational services for all students. This includes providing the leadership in academic programming, special needs programming, professional development, budgeting, new initiatives and district planning.
"Taking opportunities that are outside your comfort zone, work hard and put in your true effort to find your place in the world."
What obstacles did you face and how did you overcome them?
This is a hard question for me. This is something that I wrestled with as a kid. I was never really sure where I fit in. As a family, we had three major moves during my school life. I've lived in Teulon, Churchill and Thompson. Moving as a school-age student has its challenges. Luckily, I had the best parents in the world and so much family support from both sides of my family. They made me feel that I could accomplish anything that I set out to do. I, also now appreciate the value of being able to live in three very different communities. One of the benefits is that no matter where I go I know people and I believe in community.
One of the obstacles I face now is time. There are not enough hours in the day and sometimes change doesn't happen fast enough. Too many of our students are not seeing success and every day that we spend pondering is another day gone.
What or who inspired you to really go after the profession you are in now?
I decided in grade three that I wanted to be a teacher. I have the best memories of school in those years. My teachers were kind and school was fun. I had many dynamic teachers during my school years. Entering university was a dream. I wanted to be that kind and caring teacher who makes a difference for students.
What critical choices or decisions did you make that helped you get where you are today?
Finishing high school was really important. A high school diploma opens the door to many opportunities. Before completing my university education, I always worked. Most of my positions were working with the public. I really enjoyed working with the public, especially with those who were shy or needed assistance. I want people to always feel like they belong and I like to see people smile.
Message of Encouragement:
We all have a place in this world. Taking opportunities that are outside your comfort zone, work hard and put in your true effort to find your place in the world. Our life and our world are truly gifts to be embraced.
---