Education and Early Childhood Learning

Shawn Sigurdson
October 2011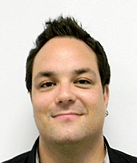 Home Community:
Winnipeg
Cultural Identity:
Metis
Current Position:
Teacher
Education/Training: Bachelor of Arts (Major: Psychology/Art, Minor: Theatre) Bachelor of Education
Roles/Responsibilty: Teacher for the behavioural program for special education students diagnosed with EBD (Emotional Behaviour Disorder) using technology, art and Aboriginal culture.
"Be enthusiastic and don't be afraid to take risks"
What obstacles did you face and how did you overcome them?
One of the main professional obstacles I encounter is motivating students and making education relevant during their time of personal crisis. Students need a learning environment where they feel safe and are given an opportunity to realize their potential. As an educator, I feel it is important to model empathy and create a classroom with a "team" concept; where youth are supported by their peers and encouraged to explore ideas. Developing trust fosters the prospect for learning.
What or who inspired you to really go after the profession you are in now?
My time employed as a respite worker for youth with physical/cognitive disabilities inspired me. I enjoyed the challenge of an unpredictable environment, creative problem solving and the rewards of witnessing genuine growth.
Equally valuable was my experience working with youth in the North End of Winnipeg. Their stories of resilience have taught me humility and I gained a better perspective regarding my own personal struggles. I find we can learn much from the students we teach.
What critical choices or decisions did you make that helped you get where you are today?
I have worked for a non-profit Aboriginal organization where I was given the opportunity to develop and operate an off campus education program. With such responsibility I had no other choice but to take initiative and pursue resources for all aspects of the project, including finding students to fill the classroom. Most importantly however, I created activities that not only educated students but kept them interested enough to stay.
In the process, I learned how to work under pressure and became extremely adaptive and vigilant to the emotional needs of my students. More than anything else, I learned the commitment and dedication needed in order to complete a goal. The proudest moment of my short career in education to date, was the day our modest off-campus program generated enough interest to be picked up officially by the Winnipeg School Division.
Message of Encouragement:
Be enthusiastic and don't be afraid to take risks.
---