Education and Early Childhood Learning

Benjamin Joseph Morrisseau
October 2014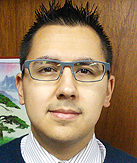 Home Community:
Winnipeg, Manitoba
Manitoba Cultural Identity:
Métis
Current Position:
Teacher at École Sacré-Coeur
Education/Training:
Bachelor of Arts and Bachelor of Education
Roles/Responsibilty:
I teach grade 3 French Immersion
"Think lightly of yourself, be aware
and acknowledge the influences
around you."
What obstacles did you face and how did you overcome them?
One obstacle was the anxiety I experienced. With some help, I was fortunate to figure out what I needed to do to overcome it. I also learned some hard lessons during my life. These moved me forward in the end because I reflected and was then able to see these as learning experiences. Being surrounded by supportive people was key for me.
What or who inspired you to really go after the profession you are in now?
There were many things. When I was 19 I started to figure things out while in University. I realized that no matter what I decided to do with my life, I wanted to be able to help others and improve life on this planet however I wasn't sure how I would accomplish this at the time. In University I was very interested in cognitive and developmental psychology. Furthermore taking philosophy and learning about John Dewey was a pretty influential experience for me towards becoming a teacher. Of course working with kids and loving it was what really made me aware that teaching and entering education was the best thing for me. From the beginning, Kayla Mackay inspired me and believed in me to become a teacher.
What critical choices or decisions did you make that helped you get where you are today?
Two summers ago I decided to work with elementary kids at the Community School Investigators summer program. It was a very positive learning experience for me and opened my mind to teaching early years even though I studied for teaching senior years. During my practicum placements at École Stanely Knowles School and Sister High School, I had the opportunity to learn more about aboriginal culture and to help coach hockey. I decided to go down those paths and these experiences were critical in my development as a teacher.
Message of Encouragement:
Remember, everything is hard the first time. Reflect upon experiences, adjust and try again. Things will become easier overtime. Think lightly of yourself, be aware and acknowledge the influences around you.
---