Education and Early Childhood Learning

Leona Catcheway
February 2013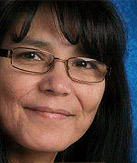 Home Community:
Tataskweyak Cree Nation
Cultural Identity:
Cree
Position:
Elementary Phys Ed Educator at Ebb and
Flow School
Education/Training: Bachelor of General Studies, Bachelor of Education, and CCTP Diploma in Aboriginal Counseling
Roles/Responsibilty:
To guide students and
become better people through education
"...always remember only "you" can make a better life for yourself."
What obstacles did you face and how did you overcome them?
Poverty. When I think of my childhood years I realized that I never got to experience what I wanted to as a child due to poverty. I finally was able to buy the things I've always wanted and seen the happiness in my children's eyes and that was good enough for me. Today, being a teacher I can afford the things I want to do such as travel and purchase items I longed for as a child. For example; ski-doo, boat, a house, nice clothes, etc…..
What or who inspired you to really go after the profession you are in now?
My true inspirations are my grandparents. Without their unconditional love and patience I wouldn't be where I am today. As a little girl, I was very fortunate to live with my grandparents. My cousins and I would play school outside our grandparents' house and I would always play the role of the teacher. When school was out for the summer and because my grandparents didn't have much money, our toys would be the paper we would get from the school. What my grandparents instilled in me was to learn how to read and write.
At the age of seven years old, I was taken from my grandparents' home. I am a survivor of the 70's scoop. Family services came one day and took me away along with my brother and sisters. They told us we were going to be with our parents and as a child, I was happy to board an airplane without making a fuss. When we landed, I thought it was in the middle of nowhere. We landed on the shores of Split Lake and we were put in a log cabin and waited for our parents. All along the family services people were placing us in foster homes. They kept us from fussing by telling us lies after lies. Those family service people told us we had to wait for our parents to come and pick us up. I waited for years for my parents to come but they didn't show up. During those years in foster care, I didn't see my dad for eight years but I did see my mom a few times. My siblings and I were not allowed to live with our parents and I never knew why. We were never told. While living in foster care and as a little girl I knew my escape was education because I remembered what my grandparents told me. I was always a smart student in school and skipped Grade three. I was moved to Grade four, but I struggled every grade after that. At the age of 14, I was sent away to fish camp. I knew I was missing too many days of school. When I returned from fish camp I'd run to the school and tell my teacher why I missed so many days. With my teacher's help, I caught up on most of the assignments on all subjects. By giving me a few five-minute lessons each day, I was considered a top student and passed Grade nine and I went on to high school.
What critical choices or decisions did you make that helped you get where you are today?
For years, while I attended the PENT Program at Brandon University, I struggled to keep my marriage together. After twenty five years of marriage and having raised a family together, I made the ultimate decision to leave my marriage and the community to continue with my career as an educator. Leaving a home which I built with my children was very hard on me. I was devastated and I thought my life was over. I couldn't concentrate with my studies. It came to a point where the Senate of Brandon University were ready to let me go from the PENT program because I had failed all the courses in both spring and summer sessions that year. It was then I realized why throw away a dream? I wrote a letter to the senate of BU and explained my story. I was reinstated and received my education degree two years thereafter.
Message of Encouragement:
No matter what life challenges comes your way, always remember only "you" can make a better life for yourself.
---