Education and Early Childhood Learning

Nicole Munroe
September 2021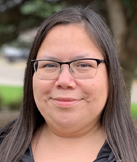 Home Community:
Garden Hill First Nation
Cultural Identity:
Ojibwe-Cree
Current Position:
Grade 6 teacher
Education/Training:
B.A. Advanced, B.Ed.
Roles/Responsibilities:
My responsibility as a teacher is to support my students to be successful learners. I am a teacher who enthusiastically works to help students learn about their culture, history, and language. One of my roles is to build a safe and welcoming environment so that students can nurture their

well-being.
"By showing our light, we are teaching about resilience and hope. Let's work together so that we can build a better tomorrow for all students."
What obstacles did you face and how did you overcome them?
I faced many obstacles while being a post secondary student. Unfortunately, at the beginning of my academic journey, I became sick. I was seen by many doctors who could not diagnose what was wrong with me. I lived with the pain and stress of this uncertainty while going to university. I met many people who helped me through these dark personal times and I am grateful for those who helped me keep going. I also met people who did not understand my life circumstance. These people became a negative influence.
The life-saving people that stood beside me, supported me, and encouraged me were my allies. With their support, I walked forward with a little more strength but I learned that you just need to get up and keep moving. But I also learned you cannot do it alone. I thank all of the life-saving people. I could not be the teacher I am today without their encouragement and guidance.
What or who inspired you to really go after the profession you are in now?
My grandfather worked at the school when I was growing up in Garden Hill. He encouraged me to go to school. He was the inspiration for my whole family to get an education. My grandfather's encouragement made a family of teachers. My aunts are teachers. My uncles are teachers, and my parents are teachers. Now, I am proud to be a teacher too.
What critical choices or decisions did you make that helped you get where you are today?
I had to overcome obstacles while I was in school. As I was going through negative experiences as a student, I realized that I wanted to help Indigenous students navigate educational environments from early years to post secondary levels. I learned that Indigenous students need safe places and safe people to assist in their educational journeys. I want all Indigenous students to succeed. To achieve this, all students must feel accepted and included in their school community and Manitoba as a whole. Once students feel a part of the community, they will be more open to learning. I want students to feel like they belong so that they can receive knowledge and walk confidently toward sharing their gifts with the world.
Message of Encouragement:
Throughout our lives we meet up with different people who share gifts of knowledge with us. Carry these teachings so that we may shine bright for our future leaders. By showing our light, we are teaching about resilience and hope. Let's work together so that we can build a better tomorrow for all students.
---