Education and Early Childhood Learning

Robert N. Chartrand
March 2021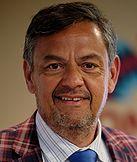 Home Community:
Winnipeg and St. Laurent
Cultural Identity:
Métis
Current Position:
Area 2 Superintendent, Frontier School Division
Education/Training:
- Bachelor of Education
- Master of Education
"Today post-secondary schools that I know of have tremendous supports for students… but they need to access those supports."
What obstacles did you face and how did you overcome them?
I graduated from a small high school that didn't have a counsellor to assist students with accessing post-secondary school. At that time no one in my immediate family and very few in my extended family had attended university. At the university there were few, if any, academic and personal supports. It took some time to understand and manoeuver the university system. Today post-secondary schools that I know of have tremendous supports for students… but they need to access those supports.
What or who inspired you to really go after the profession you are in now?
While I had spent many years working in recreation programs for children during high school, I really didn't know what I wanted to do. Shortly after graduating from high school I began working as a teacher's aide at Faraday School in Winnipeg. The teachers, and the entire staff, were absolutely remarkable in their care for children and families. As well, they were master teachers. They inspired me to become a teacher and I was also fortunate to have them as my mentors while doing my practicum in their classrooms. Once I made the decision to go to university, the ongoing support from my immediate and extended family further inspired me
What critical choices or decisions did you make that helped you get where you are today?
Early in my career I was intrigued by how vast and diverse education was and still is today. So began my journey teaching and working in places such as alternative classrooms, a penitentiary, an adolescent treatment centre, and the Norwest Territories in both a public school and the college system. The tough decisions have always been knowing when to change in teaching positions, and then again going into administrative positions. I realized that I needed to believe in myself and in the strength and contributions of those who I work with. I needed to listen to everyone, and in particular to the many mentors who I had the good fortune to work with and learn from.
Message of Encouragement:
When I graduated from university, Mr. Strini Reddy gave the commencement address. For those of us who know Mr. Reddy, to say that he is a masterful speaker and gifted storyteller is a huge understatement. Of course everyone in the audience was in awe.
I do recall, although these are not the exact words, he reminded us, "The only justification that we have to look down on someone is when we are about to help them up."
Those words have stayed with me as a constant reminder of the work that I do, and that we all must do together.
---