Using the Continuum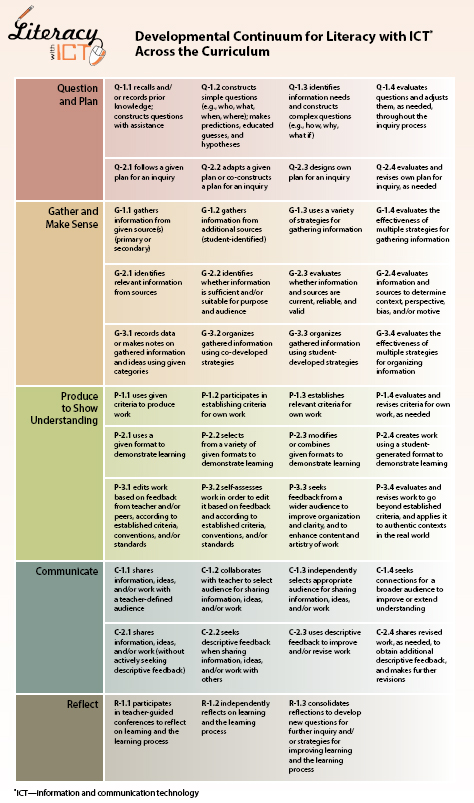 The Developmental Continuum for Literacy with ICT (LwICT Continuum) paints a picture of how students develop their critical and creative thinking, in curricular context, and through the safe, responsible and ethical use of ICT.
The LwICT continuum is an assessment tool for learning based on teacher observations. It describes what teachers see and hear students doing, as they demonstrate their literacy with information and communication technology.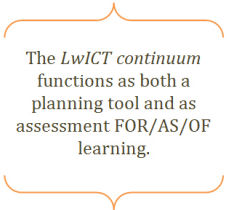 The LwICT continuum respects the literacy of all students. Using the Continuum as a lens, all learners, with guidance can see themselves as literate learners on the road to lifelong literacy with ICT.
The LwICT continuum functions as both a planning tool and as assessment FOR/AS/OF learning. By observing learners as they engage in inquiry using ICT, teachers determine which behaviours students have demonstrated and those they are still working towards. This information helps teachers plan for instruction as it indicates the nature of the learning contexts that will further develop student literacy with ICT (assessment FOR learning).
For more information about using the continuum as assessment FOR, AS and OF learning see Assessment and LwICT.
Purpose and Use of the Guidelines
There are two sets of guidelines that are used in conjunction with LwICT developmental continuum: the Health and Safety Guidelines and the Ethics and Responsibilities Guidelines. The purpose of the guidelines are to explicitly state relevant and important points to be aware of, to learn about and to practice in the areas of health, safety and ethics and responsibility while learning and communicating with ICT.
The guidelines provide a list of items to weave into and throughout the inquiry learning process. They are for teachers to use as discussion starters with students within their class, school, educational community or globally in order to encourage students to think critically about: their physical, social and emotional health; managing their identities and their privacy; recognizing and responding to dangerous behaviour; other peoples' rights for privacy and different perspectives; intellectual property rights; society's right to information access versus individuals' right to privacy; and the potential impact of their decisions and actions on themselves, others and society.
Purpose and Use of the Student Friendly Version of Continuum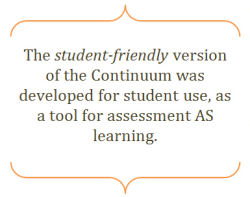 The student-friendly version of the Continuum was developed for student use, as a tool for assessment AS learning. The language is simplified and exemplars are not included. The purpose is to have a tool designed specifically with students in mind, to make it easier and less daunting for them to read and reflect on their own behaviours and learning.
Teachers who use the student-friendly version with their students will typically select sections they want their students to reflect on rather than hand them the whole continuum; for example, they might give students an opportunity to journal in a descriptive manner on a handful of descriptors, for a particular task or activity. This reflection is best done "just in time", close to the time when the task occurred so as to be fresh in the mind of students and make it easier for them to remember more accurately.
The current version of the student-friendly continuum is used mainly with students in grades 3 and above. Teachers will take the time to explain each descriptor they want their students to reflect on to make it easier for the students. These reflections also facilitate conversations, between teacher and students as well as peer to peer.
In earlier years (K – 2) some teachers have created posters, each with a single concept based upon a descriptor such as "I know how to follow a plan". A teacher will then place the posters in their classroom one at a time. This will prompt conversations with their students about what the poster means and help students relate concepts with what they are actually doing.