Education and Early Childhood Learning
Deaf and Hard of Hearing
Manitoba School for Deaf (MSD)
242 Stradford Street
Winnipeg, Manitoba R2Y 2C9
Telephone: 204-945-8934 (Voice/TTY)
Website: www.msd.ca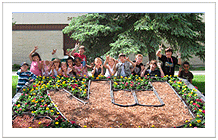 MISSION STATEMENT:
Our school provides a holistic, bilingual program that focuses on developing student proficiency in American Sign Language (ASL) and English, including spoken English as appropriate. We offer an inclusive environment in which school-aged students are guided to reach their individual potential.
PHILOSOPHY
Manitoba School for the Deaf is the only American Sign Language educational milieu in Manitoba. Students are educated through the delivery of provincial curricula. Staff members are specialists in the field of Deaf Education and recognize the importance of early language development. They work together as a team to determine programming goals aimed at meeting every student's individual needs.  Numerous resource and clinical services are available on-site.
We believe
in educating the whole child and that developing each student's unique abilities and positive sense of identity is critical for school achievement and success throughout life.
that access to language engages students in a barrier-free education.
that best educational practices involve providing teachers with professional development opportunities, allowing them to remain informed about the latest educational research.
an inclusive culture promotes and supports diversity.
an active, cooperative partnership among the student, family, school and community is essential for student growth and development.
Competence with technology is an integral part of our students' access to communication, safety and information.
Teachers follow regular provincial curriculum, making adaptations and modifications as required. MSD has a number of partnerships that further expand opportunities for students. More detailed information about all of the programs available at MSD can be found on the school website.
---