Deaf and Hard of Hearing
Manitoba School for Deaf (MSD)
242 Stradford Street
Winnipeg, Manitoba R2Y 2C9
Telephone: 204-945-8934 (Voice/TTY)
Website: www.msd.ca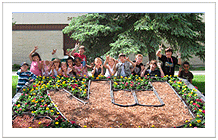 SCHOOL MISSION STATEMENT:
Manitoba School for the Deaf (MSD) is committed to providing a bilingual-bicultural environment, supporting academic, emotional, social, intellectual and physical development of school-aged Deaf and hard of hearing children.
At MSD American Sign Language provides students with full access to information, knowledge, incidental learning and socialization. ASL is used as the language of instruction in classrooms throughout the day and as the language of communication outside of class. Spoken English is used in one-to-one or small group sessions, and in our new bimodal bilingual classrooms.
MSD offers technical services such as a visual announcements and classroom communication systems, videoconferencing equipment, videophone equipment and a Multi-media Centre. Living accommodations are possible for students from rural and northern communities from Sunday to Thursday through the Home Stay Program.
Teachers follow regular provincial curriculum, making adaptations and modifications as required. MSD has a number of partnerships that further expand opportunities for students. More detailed information about all of the programs available at MSD can be found on the school website.
---