Education and Early Childhood Learning
Unified Referral and Intake System (URIS)
URIS supports children with special health needs to safely participate in eligible community programs.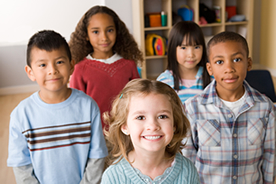 Community programs that are eligible for URIS support include:
school divisions
funded independent schools
licensed child care facilities
publicly funded respite service.
URIS provides a standard means of classifying health care needs based on their complexity and determining the degree of professional qualification required by people who support children with special health care needs. This classification system was established in 1995 in consultation with the College of Registered Nurses of Manitoba (CRNM) and the College of Physicians and Surgeons of Manitoba (CPSM), and is regularly monitored.
URIS Group A Health Care Procedures
URIS Group A are complex health care procedures that must be performed by a registered nurse or licensed practical nurse.
Ventilator care
Tracheostomy care
Suctioning (tracheal/pharyngeal)
Nasogastric tube care and/or feeding (i.e., while at community program)
Complex administration of medication (i.e., via infusion pump, nasogastric tube, injection [other than Auto-injector] while at community program)
Central or peripheral venous line intervention (i.e., while at community program)
Other clinical procedures requiring judgments and decision-making by a nursing professional.
URIS Group B Health Care Procedures
URIS Group B are health care procedures or needs that may be delegated to non-health-care personnel who receive training and monitoring by a registered nurse.
Anaphylaxis
Asthma
Bleeding disorders
Cardiac conditions
Clean intermittent cathererization
Diabetes
Endocrine conditions
Gastrostomy care and feeding
Osteogenesis imperfecta
Ostomy care
Pre-set oxygen
Seizure disorder
Steroid dependent conditions
Suctioning (oral or nasal)
---