Deaf and Hard of Hearing
Services for Students
Mission Statement:
The Manitoba Education Consultant Outreach Team provides a wide range of services, resources and information to school teams working with students who are Deaf and Hard of Hearing in the K-12 setting across Manitoba. We assist schools in supporting these students in the areas of communication access, language development, academics and socio-emotional needs.
---
The Consultant Outreach Team (COT) provides specialized consultative support for students based on the needs of the student and the school team. Manitoba Education staff support students who use a range of communication options, including oral, auditory verbal, ASL, augmentative communication or any combination of approaches. This support may include:
Consultation and support regarding amplification, classroom acoustics, auditory skills development, communication access, speech and English language development, American Sign Language development, and assistive technology
information/consultation on hearing loss, educational placement and programming;
individualized support to assist in meeting goals identified by the school team;
opportunities for students in the province who are Deaf and Hard of Hearing to interact;
networking and professional development opportunities for staff who support students who are Deaf and Hard of Hearing in the K-12 school system.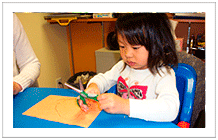 The school teams can also, by request, access specialists from the Manitoba School for the Deaf, including Audiology, Speech-Language Pathology, Social Work, ASL Specialist and Psychology services.

To access services, schools are requested to complete the Deaf and Hard of Hearing Services Referral Form. (

367 KB)
---
Contacts
Deaf and Hard of Hearing Services Unit
204 - 1181 Portage Ave.
Winnipeg, MB R3G 0T3
Phone: 204-945-7912

Services for students in First Nations communities:
First Nations schools who receive support from the Manitoba First Nations Education Resource Centre (MFNERC) can contact their Deaf and Hard of Hearing Services at 204-594-1290 (Winnipeg) or Toll Free 1-866-319-4857 (Winnipeg), 1-877-506-1568 (Thompson) or at www.mfnerc.org
---