Education and Early Childhood Learning
French (English Program)
Early Start French
Curriculum Framework of Outcomes, Kindergarten to Grade 3
Complete Document (

37,4 MB)
Early Start French, Kindergarten to Grade 3 – The purpose of this framework is threefold:
to present the vision for learning French in Kindergarten to Grade 3 (English program)
to present general and specific learning outcomes, as well as achievement indicators and related illustrative examples, for oral communication
to illustrate the balanced literacy approach to oral communication, reading and writing in Early Start French
Poster – Early Start French (

356 KB)
This poster provides a snapshot of the course, Early Start French. It illustrates how the course places an emphasis on oral communication within the balanced literacy based approach, including the integration of Francophone cultures. The poster also describes the vision, the goals and the expected outcomes of the course.
---
Sections of the Document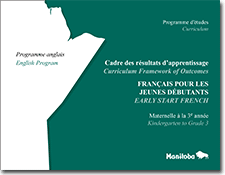 Front Matter (

653 KB)
Table of Contents (

280 KB)
Note (

256 KB)
Introduction (

314 KB)
Purpose of the Document
Philosophical and Pedagogical Principles
Early Start French (

702 KB)

Vision and Goals
An Early Start to the Balanced Literacy Approach
Oral Communication and Learning Outcomes
Reading
Writing
Culture
Integration of Subject Areas
Assessment of Oral Communication
Bibliography (

258 KB)
Appendix (

6,8 MB)
Three Models for Teaching Early Start French ( 262 KB)
Strategies for Success ( 1,6 MB)
A Typical Lesson Plan
Everyday Questions and Expressions
Establishing Routines
Petit bavardage amical
Mur de mots
Message du jour
Jeu du serpentin
PDF Version ( 319 MB) MS Word Version ( 66 KB)
Suggested Resources by Month and by Theme
Au Manitoba, on s'amuse en français, Ensemble de sensibilisation (

29 MB)
To facilitate the teaching and learning of French, teachers can plan their thematic units using these suggested learning situations (activities and games), rhymes, songs and stories. Teachers are encouraged to select the learning situations that best meet the needs of their students. They are organized below, by grade and then month.
---