Education and Early Childhood Learning
Student Services
Working Together
A Handbook for Parents of Children with Special Needs in School
Introduction
Parents are valued partners in education in Manitoba. As parents, you know your child's strengths, abilities, needs and challenges, and, as a result, you have a vital role in the education of your child. Your participation in planning for education and your ongoing involvement and support will make a positive and meaningful contribution to your child's education.
School boards in Manitoba are required to provide an education for all school-age children and youth who live in their school division. Children and youth have the right to attend school from age five to high school graduation or age 21. Students with special needs, including those with lifelong disabilities, require educational opportunities that are appropriate for their learning needs, age, and level of school achievement.
Developments in Special Education
Since 1966, schools in Manitoba have been responsible for the education of students with special needs. During this time, there have been many changes and improvements in the area of special education. In Manitoba, we believe that a strong partnership between schools and families is the key to the success of our children and youth.
This document highlights the importance of the diverse and changing learning needs of students with special needs. It also offers support and encouragement to parents and families of students with special needs. This handbook describes some of the services and activities that might be used to meet individual student needs at school.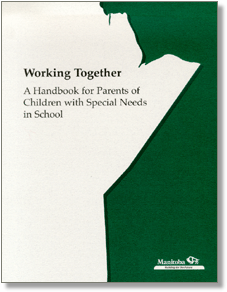 This document and specific sections are available for download as PDF files

.
Complete Document (3.2 MB)
Acknowledgements and Contents (283 KB)
Introduction (565 KB)
Identification and Assessment (789 KB)
Planning and Programming (1.1 MB)
Communication (555 KB)
Additional Information (739 KB)
References (269 KB)
For further information regarding Working Together: A Handbook for Parents of Children with Special Needs, please contact:
General Enquiries
Inclusion Support Branch
Manitoba Education and Early Childhood Learning
Telephone: 204-945-7907
Toll Free in Manitoba: 1-800-282-8069, ext. 7907
Email: isbinfo@gov.mb.ca
---