Education and Early Childhood Learning
Student Services
Student-Specific Planning
A Handbook for Developing and Implementing IEP's
The term IEP is a global term referring to a written document developed and implemented by a team, outlining a plan to address the individual learning needs of students.
This handbook is intended to provide student service administrators, principals, classroom and resource teachers, and other professionals with an effective process for deciding which students require IEPs. It is also designed to assist educators in developing, implementing and evaluating these Individual Educational Plans.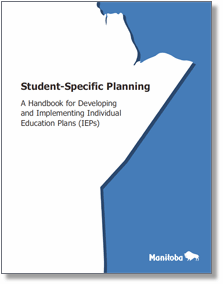 This document and specific sections are available for download as PDF

files.
Full Document (684 KB)
Specific Sections of the Document
Acknowledgements & Introduction (142 KB)
Recognition of people involved in developing the document, copyright, ISBN number, and the table of contents are identified.
Chapter 1 (155 KB)
An Overview of Student-Specific Planning describes an educational planning process that starts in the classroom with the student, parent(s),* and teacher(s), and develops and increases in complexity according to the unique needs of the student.
Chapter 2 (46 KB)
Documenting Student-Specific Planning: The IEP summarizes who must have an IEP, according to provincial legislation and regulations and departmental standards, policies, and guidelines.
Chapter 3 (217 KB)
A Student-Specific Planning Process describes four steps to guide student support teams as they develop, write, implement, and review IEPs to address a student's specific educational needs.
Appendices (143 KB)
The Appendices provide information, references, forms, and tools to support the student-specific planning process.

Glossary (39 KB)
The Glossary defines terms related to student-specific planning as they are used throughout this document
References (46 KB)
Developing and Implementing the IEP outlines the process of individual planning: establishing a team, setting direction, gathering information, developing and writing the plan, implementing, reviewing, and evaluating the plan.
* The term parent is used throughout this document to refer to parents, legal guardians, or others who have responsibility for caring for students.
For further information regarding Student-Specific Planning: A Handbook for Developing and Implementing Individual Education Plans (IEPs), please contact:
General Enquiries
Inclusion Support Branch
Manitoba Education and Early Childhood Learning
Telephone: 204-945-7912
Toll Free in Manitoba: 1-800-282-8069, ext. 7912
Email: isbinfo@gov.mb.ca
---