Schools in Manitoba
Homeschooling
Welcoming to Homeschooling Video - Please watch this short video to learn about homeschooling in Manitoba. This video provides important and helpful information.
Welcoming to Homeschooling Guide (

325 KB) - Please refer to this guide for general information about homeschooling in Manitoba.
---
Educating Your Children at Home
Considering Homeschooling? (

497 KB)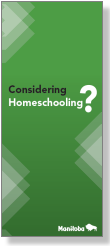 In Manitoba, parents* may choose to homeschool their children.
The Homeschooling Office within the Independent Education Unit of Manitoba Education administers homeschools and supports homeschooling families throughout the province.
* The term parents refers to both parents and guardians, and is used on this website with the recognition that in some cases only one parent or another family member may be involved in a child's education.
Homeschooling is when parents choose to be responsible for their child's education and not have their child attend a public or independent school. When parents choose to homeschool their child, they are responsible for obtaining resources and materials for the program of study. Provincial funding is not available to families who homeschool.
Parents and guardians are kindly asked to inform the Homeschooling Office if, at any time during the school year, they decide to transfer a child from a homeschooling program to a school. This will help ensure accurate records are maintained.
Please contact the Homeschooling Office by phone at 204-945-8138, toll free 1-800-282-8069 ext. 8138, or by email at homeschooling@gov.mb.ca if you require your homeschooling family number prior to receiving your confirmation of notification letter.
---