Education and Early Childhood Learning
Schools in Manitoba

Educating Your Children at Home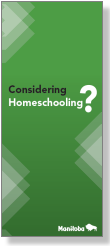 In Manitoba, parents* may choose to homeschool their children. The Homeschooling Office administers homeschools and supports homeschooling families throughout the province.
* The term parents refers to both parents and guardians, and is used on this website with the recognition that in some cases only one parent or another family member may be involved in a child's education.
Homeschooling is when parents choose to be responsible for their child's education and not have their child attend a public or independent school. When parents choose to homeschool their child, they are responsible for obtaining resources and materials for the program of study. Provincial funding is not available to families who homeschool.
When planning for homeschooling, parents may view Homeschooling Videos, read Guideline Documents for Homeschooling and view samples of notification forms and progress reports. When families notify for homeschooling, they are connected with a Liaison Officer, who supports families to meet homeschooling requirements. Please visit Frequently Asked Questions and Resources for more information.
Formulaires d'enseignement À domicile
NEW: Parents can complete and submit homeschool forms online. One form is required for each student. The online forms replace the fillable PDF forms that required digital signatures and Adobe Reader. Now, families can submit forms easily from any device (phone, tablet, computer) without having to print, sign in ink or email forms. To access homeschool forms click on the green button below.
After answering, "Are you homeschooling for the first time in Manitoba?", a Form Submission box opens allowing you to choose Student Notification Form, January or June Progress Report.
If you are experiencing trouble opening the forms page, consider the following:
Refresh this page (ctrl + r) or (cmd + r); or
Clear the Cache for this website:

For Windows, press ctrl + F5 simultaneously while on this page.
For IOS, press cmd + shift + r simultaneously while on this page.
If you have questions about the online form or to obtain a paper copy of the Student Notification Form, or January and June Progress Report forms, contact the Homeschooling Office.
---