Education and Early Childhood Learning
Manitoba's Excellence in Education Awards
Award Recipients 2022-2023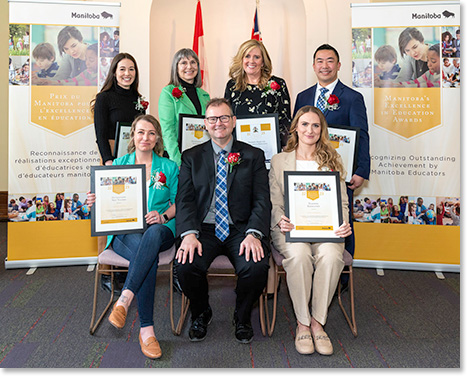 Premier's Award for Excellence in Education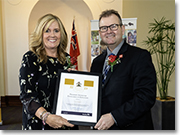 Recipient:
Terri Grant
Jameswood Alternative School
St. James-Assiniboia School Division
As guidance counsellor and resource teacher at an alternative high school, Grant takes on a high level of responsibility for changing the trajectory of the students' life paths and improving their academic and social-emotional outcomes. She sees the potential in every student and tirelessly works at helping them overcome significant barriers to education, such as poverty, addictions, and trauma. Grant strives to meet students' needs on a daily basis, including needs such as food, a quiet place to work, and more intensive supports where she mobilizes a wide range of divisional and outside agency resources. Through course selection and co-curricular opportunities, she helps students to identify their talents and develop them, and in doing so, provides them with a vision of success toward an improved way of life. Students develop leadership skills and learn the values of generosity and selflessness by participating in activities such as the University of Manitoba's Rec and Read program, Sources of Strength programming, Bear Clan walks, and Harvest Manitoba volunteering. Grant empowers students by teaching them to navigate bureaucratic systems and advocate for themselves, while also helping them get necessary documentation and gain employment. As a proud Métis woman, Grant is a strong advocate for integrating Indigenous ways of knowing and being into the school culture, with Circle of Courage teachings and Elder and Knowledge Keeper involvement. Driven by a high degree of care and concern for staff and students, Grant humbly embraces her overflowing list of responsibilities and tasks to have an immeasurable impact on those around her.

---
Teaching Excellence Award

Recipient:
Amanda Havixbeck
Stevenson-Britannia Elementary School
St. James-Assiniboia School Division
Havixbeck is an enthusiastic and engaging physical education teacher and resource teacher whose dedication and empathy for students and staff are experienced on a daily basis with every interaction. To help build students' confidence and school pride, she developed and coordinates a Grades 4 and 5 leadership program, where students have a voice and can participate as Kindergarten helpers, safety patrols, compost collectors, social justice ambassadors, and much more. Havixbeck helped establish a Recess Ambassador program where students lead activities for the younger ones, and was able to obtain grants to provide winter equipment such as sleds, saucers, and snow saws to keep students active. She has also secured grant funds for an inclusive pathway on school grounds and for playground improvements, where students have a role in planting and caring for the new trees. Students also learn to care for the greater community through the Snow Angels shovelling club and neighbourhood cleanups coordinated by Havixbeck. She created a bike lab where she educates students on bike fundamentals and assists in bike repairs. Her safe bike routes program teaches students to ride safely and takes them on eight bike ride adventures. She also coaches cross-country running and skiing. Havixbeck's passion for physical activity, sustainability, and enjoyment of the outdoors, together with her meaningful relationships with students and staff, make her a key teacher and leader in the school.

---
Teaching Excellence Award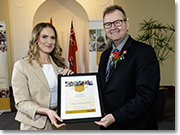 Recipient:
Sabrina Smaczylo
Holy Cross School
As a Kindergarten teacher, Smaczylo's generous nature and caring heart are devoted to helping children achieve their best. She makes profound connections with her students and their families and frequently uses a personal blog app to share photos of the students and their learning experiences. She provides options for at-home enrichment activities that address all levels of student ability. Smaczylo's class is a family, with each student having a role, ranging from fish feeder to recycling helper, to develop a sense of personal responsibility. Learning activities are tailored to the interests and needs of her students and are hands-on and tactile, such as the use of sensory boxes representing different ecosystems. Students create classroom learning materials, including alphabet posters, and design and build a "mini Winnipeg" community Bee-Bot mat, all the while learning mathematics, technology, and vocabulary. Smaczylo teaches the whole child, and tends to their social-emotional development by using zones of regulation, meditation strategies, and a toolbox of items to help them deal with strong emotions. Students learn to work through struggles by understanding how to move from a closed mindset to a growth mindset. She has an impact on the whole school, volunteering for events, coaching sports, and leading in-service sessions for her colleagues. Smaczylo's uplifting presence, professionalism, and dedication inspire all to be the best they can be.

---
Teaching Excellence Award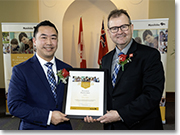 Recipient:
Calvin Yong
École Charleswood School
Pembina Trails School Division
As a Grade 8 Mathematics/Science/Health teacher, the success of Yong's exemplary teaching practices is anchored in his ability to create an engaging and safe learning environment where students feel accepted, confident, and competent. Through cooperative games, creative whole-class activities, and Yong's unique way of leading his class to think, students are willing to take risks, share thinking, and engage in peer-teaching. He provides a variety of hands-on, experiential, and guided inquiry learning experiences, be they in a park, at a local business, or in his workshop/lab-style classroom—which is filled with digital and analogue learning surfaces and materials. In response to students' desire to make their community a better place, Yong coordinated a rain-barrel fundraiser where proceeds—multiplied by up to 10 times through matching government agencies—went to families in developing countries. His students also annually plan a day of activities with the residents at Riverwood Square Retirement Living. Yong has taken on many formal and informal roles. In addition to being a homeroom teacher, he is, among other roles, the mathematics support teacher, the information technology lead, a co-operating teacher for pre-service teachers, lead for national mathematics contests, and a sports coach. Yong is considered a "spirit lifter" in École Charleswood School. His infectious energy, approachable nature, and intuitive kindness are constant, drawing students and staff into learning and into a strong sense of community.

---
Outstanding New Teacher Award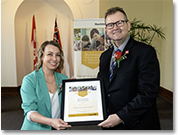 Recipient:
Jessica Canning
Crocus Plains Regional Secondary School
Brandon School Division
Although relatively new to the teaching profession, Canning stands out as both a passionate educator and a tremendous force for improving the school community. Her motivational qualities along with her unquestionable work ethic have generated excitement for youth leadership, social sciences, business education, and science. Drawing from past experiences in other professions and her constant pursuit of bettering her craft, Canning brings meaningful learning experiences to the classroom and strong leadership to multiple school committees. As a Grades 9 and 10 teacher, she considers the needs of all students and incorporates innovative strategies and materials to work with all learning styles, such as using GIS technology and resources from Learning at the Leg. Canning played an important role in procuring grants for special projects, such as indoor and outdoor gardens for teaching, food production, and promoting habitat for pollinators. She is the primary staff advisor for both Senior and Junior Student Councils, the promotional manager for the Crocus Plains major production, and collaborator in the school's STEM for Girls club and the Students on the Beamline group. Canning is enthusiastic about teaching and demonstrates excitement for all areas of education. Early in her professional life as a teacher, she inspires excellence and is a visible role model for both students and staff.

---
Outstanding Team Collaboration Award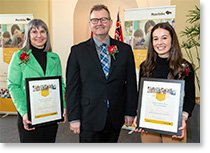 Recipients:
Claire Aiello and Jacqueline Morrison Demchuk
Balmoral Hall School
Working together as a Grade 7 team, Aiello and Demchuk have re-imagined what collaborative teaching and learning can look like. Aiello, a social studies and English language arts teacher, and Demchuk, a mathematics and science teacher, combined their respective subject matters into an integrated program that meets learning outcomes while connecting them to real-world issues. Units, lessons, and assessment tools were developed to meet the needs of their students, as they complete year-long collaborative projects on the theme of transformation. Students are challenged to address four pillars of sustainability—economic, cultural, environmental, and social—and the question "What are the problems and what do we want our environment to be?" In small groups, students authentically explore a problem they are passionate about, and then envision, design, and create installations. Throughout the year, Aiello and Demchuk integrate lessons to complement these projects, such as exploring riparian environments, and invite guests, such as an Elder, to help students to examine different perspectives on land stewardship. Throughout the process, students are encouraged to seek peer feedback and reflect on their learning. The culminating event involves pitching their vision to a guest panel of architects, city planners, and the school leadership group. The program model of Aiello and Demchuk has inspired teacher colleagues to work together to create similar learning experiences, where students are more engaged and become stronger communicators and collaborators.

---