Education and Early Childhood Learning
Manitoba's Celebration of Excellence in Teaching
Minister's Award Recipients 2014-2015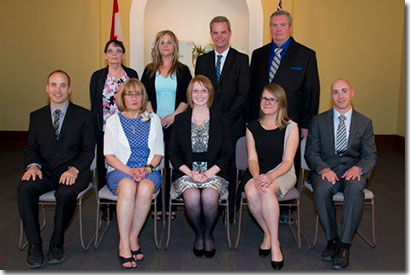 ---
Teaching Excellence Award – Early Years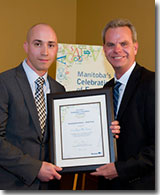 Recipient:
Mr. Curt McKinnon
Stevenson-Britannia School
St. James-Assiniboia School Division
As a Grades 1 to 5 physical education teacher, McKinnon encourages and motivates all students at varying skill levels. To engage his students in physical activity, he seeks out new and creative ideas, activities and equipment, invites guest experts to work with the students, and uses positive feedback to keep them motivated. His "Mission Impossible" unit challenges students through collaborative obstacle courses that encourage teamwork. McKinnon organizes intramural and before/after school sports to ensure that students have the opportunity to incorporate more physical activity into their day. He also seeks ways to provide gym clothing, shoes and equipment for at-risk students. He makes great effort to involve students in the community through a variety of initiatives like the WRENCH program (Winnipeg Repair and Education Cycling Hub), where students develop bicycle repair skills that in turn they can share with the community. He instils leadership qualities in the older students through different programs such as Recess Ambassadors, where they run recess activities for younger students, and Scuff Club, where students help with the maintenance of the facility and gym equipment. The older students are also trained as referees or timekeepers for the intramural activities. McKinnon is a dedicated, approachable and energetic role-model who brings his passion and contagious enthusiasm to the students and staff.
---
Teaching Excellence Award – Middle Years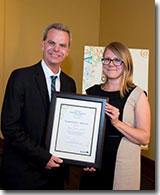 Recipient:
Ms. Alyssa Herkert
École Tuxedo Park
Pembina Trails School Division
Herkert is proactive in implementing innovative strategies and programs for positive peer building, social awareness and for engaging her diverse group of Grades 5 and 6 students in learning. Herkert encourages empathy and social responsibility by involving students in community-focused initiatives such as Habitat for Humanity, Earth Day and the Seniors Buddy program where students visit and connect with senior citizens at the neighbouring manor. Her students assume leadership roles by coordinating, for example, a school-based science fair in French, and by initiating and hosting student-centered assemblies. As the middle-years numeracy team leader, Herkert collaborates with her colleagues to plan professional development sessions and has developed activities such as a mathematical treasure hunt in the school to heighten students' numeracy and problem-solving skills. Herkert's repertoire of professional skills, her enthusiasm, and her ability to connect with students and staff have had a positive impact on the school community.
---
Teaching Excellence Award – Senior Years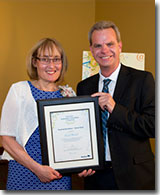 Recipient:
Ms. Rachel Mitchell
University College of the North Adult Learning Centre

As an educator in an adult learning centre, Mitchell is well aware of the unique challenges that her students face as they balance family, work and studies to obtain their high-school diploma. She understands and believes in her students; she knows that they are resilient, capable and talented individuals who she can challenge to do their best. Mitchell's innovative teaching practices are based on sound adult-learning principles that make the curriculum engaging and relevant. She incorporates inter-generational story-telling and cultural elements that are familiar to students, and uses free resources that are appropriate in her teaching material such as Aboriginal Justice Inquiry, the Truth and Reconciliation reports and the Treaty Relations Commission of Manitoba. Mitchell also takes learning outside the classroom by having her class participate in community events and activities and by arranging field trips. She has held classes all over Thompson, at community vigils, at conferences, at service provider organizations, etc. To further assist students on their path to success, she leads monthly "Passport to Success" workshops that focus on a variety of topics of interest including time and financial management. Mitchell is an experienced master teacher who is also an advocate and friend to students and staff.
---
Outstanding New Teacher Award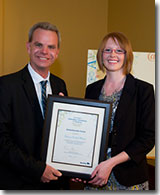 Recipient:
Mrs. Brittany Melnyk
O'Kelly School
Brandon School Division
As a second year teacher, Melnyk conducts herself with the professional and natural skill set of an experienced educator. She has a remarkable ability to plan, assess and deliver programming in an engaging and meaningful way. Melnyk advocates for and uses innovative strategies, learning tools and assistive technologies to meet the needs and demands of a diverse group of Grades 2 and 3 students. Focussing on their strengths and interests, her lessons are infused with interesting literature, cross-cultural connections and manipulatives to help each student progress. Field trips, guest speakers, supplemental classroom activities and uses of rich resources from the local community impact her students' learning and encourage them to become life-long learners. Melnyk has assumed a number of leadership roles in school-wide initiatives and has already presented a literacy workshop to her peers. Her support and encouragement to colleagues has resulted in an increase in team planning and professional collaboration in the school. Melnyk has been instrumental in strengthening the school climate by her optimism and by her favourable rapport with all members of the school community.
---
Team Collaboration Award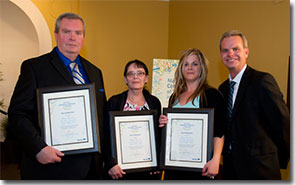 Recipients:
Mrs. Melanie Cote,
Mrs. Janet Hammersley and
Mr. Gordon Patton
Kelsey Learning Centre
Kelsey School Division
Cote, Hammersley, and Patton are the recipients of the Team Collaboration Award. The school was destroyed by arson in September 2014, which left the staff and students without supplies, resources and classrooms. Cote, Hammersley and Patton immediately faced the challenges and found a new location and created new materials from scratch. They had classes running on a full timetable in under five days. They spent countless hours on this monumental task, and through it all, they took the time to follow-up with each student to reassure them and provide them support during this difficult time. Once the school was up and running, the students and teachers decided to adopt the local homeless shelter that was on the verge of closing. Students now volunteer regularly and are devoted to giving back to the community that had helped them in their time of need. This project has developed not only valuable job skills but has also resulted in an increase in student attendance and academic scores, engagement and feelings of pride. Through their team collaboration, compassion and determination in the face of adversity, Cote, Hammersley and Patton are role-models to their students and an inspiration to the school community.
---
Outstanding School Leader Award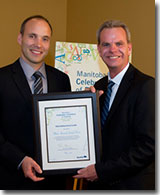 Recipient:
Mr. Marc Poirier
École Marie-Anne-Gaboury
Louis Riel School Division
As principal of a French Immersion school, Poirier strongly believes in the importance of creating a collaborative environment to ensure a quality, bilingual education for his students. Poirier has established strong and positive relationships with students and staff and has created a healthy network of liaisons with parents and the community. He values the connection between students, staff and parents, and takes deliberate steps to foster an engaged school community based on respect, compassion and a sense of belonging. Poirier demonstrates his school pride by submitting posts several times a week on Twitter and the school website. He blogs on a variety of educational topics, celebrates the achievements of staff and students, and shares videos and photographs of school events with the community. He works closely with the Parent Advisory Committee and actively participates in many school initiatives. Through his leadership and positive example, Poirier inspires the members of his school community to work hard, to believe the best is possible and to strive for academic success.
---