Education and Early Childhood Learning
Manitoba's Celebration of Excellence in Teaching
Minister's Award Recipients 2012-2013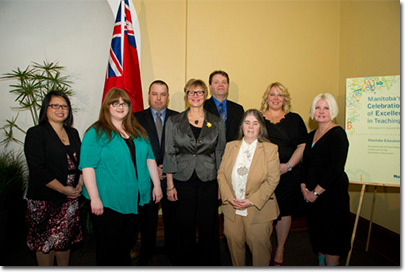 ---
Teaching Excellence Award – Early Years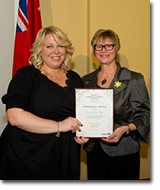 Recipient:
Mrs. Kimberly Fuller
Springs Christian Academy

Fuller continually challenges her Grade 4 students to reach out to the world around them. She focuses on developing their sense of responsibility, respect, honour and appreciation. Fuller encourages her students to dream about what they can do with their lives and how they can help others while fulfilling those dreams. In her science class, she awakens her students' scientific curiosity and creativity, allowing them to invent, build and problem solve through the design process and research. In addition, in order to instil economic responsibility, she created a money-management system that teaches the students the importance of paying bills, saving money, investing and giving to charity.
---
Teaching Excellence Award – Middle Years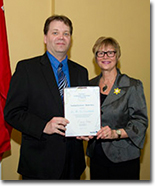 Recipient:
Mr. Lee Van Cauwenberghe
École Stanley Knowles School
Winnipeg School Division
Van Cauwenberghe, a teacher of mathematics and science, is an accomplished and innovative leader in the school community. He promotes learning opportunities that are authentic and effective, thus engaging his students in both classroom and co-curricular activities. Van Cauwenberghe was recognized by his school division for his innovative assessment practices that resulted in exceptional student scores in the divisional math exam. He recently took on the position of math curriculum leader to work collaboratively with middle years teachers on developing effective instructional strategies for students requiring additional supports. In addition, he facilitates training sessions for teachers around the province for the Distance Learning Unit of Manitoba Education.
---
Teaching Excellence Award – Senior Years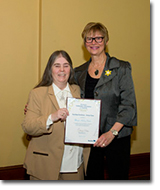 Recipient:
Mrs. Megan Strain
Murdock MacKay Collegiate
River East Transcona School Division

As a teacher in the arts department offering the advanced placement curriculum for arts, Strain engages her students to be passionate about various forms of artistic expression and encourages them to make valuable contributions to society via the arts. Under Strain's direction, there is an abundance of opportunity for students to develop a critical lens through which to view the world and to become engaged at an intellectual level. Under her leadership, students have participated in numerous community initiatives such as creating banners for display in the local business district to promote health and wellness, facilitating a landscaping project to improve the grounds shared with an adjoining school and creating props, signs, and benches annually for the Children's Festival and the Teddy Bears' Picnic. Strain's passion for arts education and commitment to her students has inspired many of them to pursue post-secondary education in a variety of fine arts and creative communication programs.
---
Outstanding New Teacher Award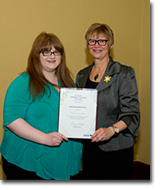 Recipient:
Mrs. Krista Byers
Ashern Central School
Lakeshore School Division
Presently in her second year of teaching, this innovative senior years English language arts (ELA) teacher is considered a master at creating elaborate and engaging learning resources for her grades 9 to 12 students. Already a SAGE (Special Area Groups of Educators conference) presenter in her short tenure, Byers succeeds in sharing her passion and inspiring ELA teachers. She was accepted into the school division's Middle Leadership program and has chosen to lead the school's senior years professional learning community, with a focus on reading comprehension across all disciplines. Byers provides individual mentorship to other teachers in the school, creates support materials for outcome-based assessments and finds ways to facilitate communication with parents. She has made a significant impact on her students, her colleagues and the community.
---
Team Collaboration Award
Recipients:
Mrs. Kristina Stawski and
Mrs. Lorraine Ilagan,
Daniel McIntyre Collegiate Institute
Winnipeg School Division
Stawski, guidance counselor and head of the English as an additional language (EAL) department, and Ilagan, an intake and resource co-ordinator and grades 9 and 10 teacher, lead the EAL team of dedicated educators. Their mandate is to address the needs of the school's diverse community. More than half of the student population of 1,200 comes from new immigrant and refugee families. Under Stawski's and Ilagan's leadership, the EAL team has created an efficient and successful three-day reception process complete with an initial assessment and an orientation process which includes a variety of workshops by the EAL teachers and testimonials from present and former EAL students. Working together as a cohesive unit, the EAL team participates in a continuous cycle of evaluation, reflection and collaboration to ensure that all EAL students are given every opportunity to graduate successfully and to develop the skills necessary to become outstanding citizens.
---
Outstanding School Leader Award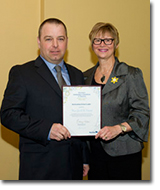 Recipient:
Mr. Yvan St. Vincent
Principal
Ste. Anne Elementary School and Ste. Anne Collegiate
Seine River School Division
St. Vincent became principal at a time when the adjoining schools were facing many challenges with student performance and behaviour, staff morale and the school's reputation in the community. St. Vincent demonstrated excellence in leadership through his clarity of vision, his progressive ideas and his collaborative approach. Teachers from both schools were brought together into an effective and cohesive group that felt empowered and respected. Students were engaged in ways that improved the school climate while focusing on developing the academic, social and emotional skills that would allow them to succeed and thrive as learners. Parents and community leaders were invited to work collectively with educators to foster school pride and to strengthen the positive role of the school within the community.
---