Education and Early Childhood Learning
French – English Program
(Basic French)
En route vers le succès langagier en français de la 4
e

à la 10

e

année
Support Document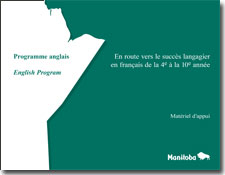 Complete Document (

4.04 MB)
Manitoba Education and Early Childhood Learning has developed this support document to provide teachers with essential tools to guide student success in learning French. This document follows the recommendations in the curriculum for French (English Program) which is based on the balanced literacy approach to teaching a second language.
This document is divided into themes with suggestions for each grade level. It presents possible learning situations that teachers can use to develop and expand the thematic units. The can do statements will also assist teachers in determining the linguistic structures to be modelled.
Sections of the document:
Front Matter (

306 KB)
Introduction (

203 KB)
Explanation of Charts (

225 KB)
Assessment (

188 KB)
Methodology (

226 KB)
Integration of Information and Communication Technology (

158 KB)
Themes
Food - Grades 4 to 10 (

1.6 MB)
There is an incremental progression from one level to next with considerable scaffolding that gradually decreases the support provided to students in order to allow to become independent learners.
School - Grades 4 to 10
(

1.9 MB)
Appendices
Title
Word
PDF
Appendix A: Planning Template
88 KB
206 KB
Appendix B: Learning Strategies (Student)
167 KB
Appendix C: Best Practices (Teacher)


The pedagogical strategies that follow support the balanced literacy approach and are always modeled by the teacher in French. Theses strategies allow the students to listen, to understand, to interact orally and in writing in a rich and simulating context.

302 KB
Ma banque de mots
46 KB
82 KB
Le message du jour
218 KB
Le bavardage amical
231 KB
Appendix D: Reading Responses

It is important to note that before any reading or writing activity, the teacher contextualizes the learning situation orally.

111 KB
Ma partie préférée
1.4 MB
260 KB
Le début, le milieu, la fin
1.7 MB
242 KB
Je dessine l'histoire
219 KB
162 KB
Ma réflexion sur le livre
77 KB
136 KB
La poésie
129 KB
132 KB
Appendix E: Blackline Masters
Réflexion : deux étoiles et une suggestion
124 KB
210 KB
Pourquoi apprendre le français
77 KB
104 KB
La réflexion de la vidéo
460 KB
145 KB
Un francophone célèbre
264 KB
186 KB
Appendix F: Cultural activity (Senior Years)
Qui parle français?
145 KB
Bibliography (

197 KB)
---