Physical Education/Health Education
Human Sexuality
A Resource for Grade 9 and Grade 10 (Senior 1 and Senior 2) Physical Education/Health Education
The specific sections of this document are available for download as MS-Word™ files

.
Note: All copyrighted items in the MS-Word™ version have been deleted. Notes indicating that the copyrighted items are available in the PDF version have been placed in the appropriate pages.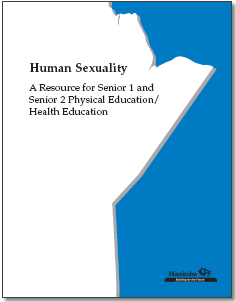 Specific Sections of the Document
Cover Page (

30 KB)
Title and ISBN (30 KB)
Acknowledgements (35 KB)
Contents (27 KB)
Introduction (112 KB)
Appendices Title Page (24 KB)
Bibliography (61 KB)
Blackline Masters available in Adobe PDF and MS-Word
BLM Senior 1 Title Page (45 KB)
BLM Senior 2 Title Page (45 KB)
Manitoba Education and Training welcomes your response to this document and invites you to complete and return this feedback form (

40 KB).
---