Economic Development and Training

Domestic Students
Study Abroad: German Exchange Program
Domestic
Manitoba and the state of Hamburg, Germany have participated in an exchange program for high school students since 1979. The longevity of the program is evidence of its success and we encourage you to become a part of this great tradition.
In January 2017, Manitoba reinforced its longstanding cooperation with the city-state of Hamburg by re-signing the official exchange agreements.
Unlike many programs, where students spend a couple of weeks in the host country travelling in English-speaking groups, this exchange places students in schools and families for three months. This kind of immersion experience has proven to be very effective for language and culture acquisition.
The German exchange program provides you with numerous advantages:
Gain fluency in German
Discover the richness of German culture
Develop close friendships with German students
Spend three months surrounded by the beauty and energy of northern Germany and visit historic Berlin
Become part of a German family
Learn to adapt to our changing world and gain a new perspective on Canada
How does it work?
In Manitoba, the program is administered by the Manitoba Teachers of German

. German students come to Manitoba from the end of August to mid November in 2024. A German student will live with your family while they are living and studying in Manitoba.
From March until the end of June, you will then travel to Hamburg, Germany to live with your German student's family. As a Manitoban student, you will be accompanied by a Manitoba teacher to Germany.
As a Manitoban student, your application deadline is January 30, 2024 to participate in an exchange from March to June of 2025.
How much does the exchange cost?
The approximate cost is $3700, and includes group airfare and activities in Germany and a week in Berlin. Below is a table with a breakdown of the fee payment installments.
Fee payment installments breakdown
Payment installments
Amount
With the Application on January 30, 2024
$500.00
End of October when flight is booked
$2500.00
January of 2024
$800.00 (approximately)


Note

: This payment can fluctuate depending on the cost of airfare and cost of a group trip to Berlin
Total
$3,700 approximately

Note

: Students should budget for optional activities such as concerts, sporting, events, additional trips with your school or host family, and spending money
Am I Eligible?
The exchange involves students in Senior 3 (Grade 11). As an applicant, you must have good academic standing. If you choose to stay for three months, you must also have a solid foundation in the German language. Please apply online at the Manitoba – Hamburg Student Exchange

page.
For a Manitoba Student applying for the 2024-2025 Exchange, completed documents should be submitted by January 30, 2024.
For more information and application, talk to the German teacher at your school or contact Charlotte Kroeker, Chair of the Manitoba-Germany Exchange at ckroeker@westgatemennonite.org.
Learn more about the Manitoba/Germany High School Exchange Program
Study in Germany Poster
(

505 KB)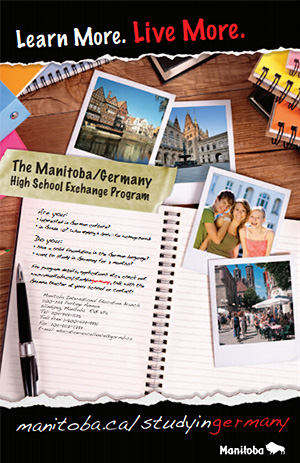 Study in Germany Brochure
(

648 KB)