My Students in the Middle Years: A Resource for Educators and School Leaders
Dear Middle Years Educators and School Leaders,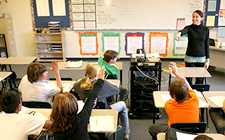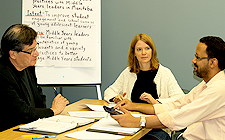 Effective Middle Years education is provided by educators who have a deep understanding of young adolescents and who are committed to meeting the needs of their Middle Years learners.
The Middle Years period is an important time for adolescents in determining school completion and commitment to lifelong learning. As a Middle Years educator or school leader, you make a significant and lasting impact on the success of your learners.
This website provides resources that support your roles and contributions as Middle Years educators, leaders, and role models for your young adolescent learners. In the Educators' section of this website you will find information and links to resources that support you in your important roles. These resources relate to the provincial curriculum, assessment and reporting, community resources, educational partners, grant opportunities, and professional learning.
Access to Resources
Manitoba Education and Early Childhood Learning provides a wide range of print, non-print, and online resources suited to instruction and learning in Grades 5 to 8.
Educational resources are available:
On the department's website (links to online resources for the various subject areas are provided in the Educators' section of this website)

Manitoba Middle Years Network
The Manitoba Middle Years Network offers monthly email bulletins about current Middle Years research, professional learning opportunities, and resources. If you would like to become a member of the Manitoba Middle Years Network, please contact <val.noseworthy@gov.mb.ca> and ask to be added as a member.
Val Noseworthy
Middle Years Consultant
Professional Learning Unit
Learning and Outcomes Branch
Manitoba Education and Early Childhood Learning
99–1577 Dublin Avenue
Winnipeg MB R3E 3J5
Telephone: 204-945-5937
Toll-Free: 1-800-282-8069, ext. 5937
Fax: 204-945-1704
Email: val.noseworthy@gov.mb.ca