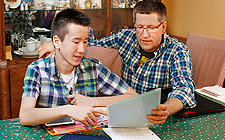 Helping Your Child Succeed
Be an active partner in your child's education, learning and school life.
Support your child's natural curiosity about nature, art, sports, music, dance, discovery projects and community work by planning family outings with your child.
Read alongside and with your child and encourage your child to ask questions or make comments about the reading (ex: "This reading makes me feel or think . . . ," "This part reminds me of . . . ," "I wonder about . . . .").
Set goals with your child about school work, home expectations and community responsibilities.
Support your child's use of the school agenda and online homework page.
Help your child stay organized. Keeping binders, backpacks and lockers neat is easier with regular cleanups.
Teach time management. Help your child break big projects into small chunks, and plot each chunk on a calendar or timeline. Your child can then use the timeline to meet due dates.
Take time regularly to support your child during homework or practice times, even if it is just sitting together at the table or working nearby.
Show you value your child's school community by attending, or helping out at, school events (ex: assist at the snack bar during a school sports game or competition, chaperone a field trip, be in the audience at school performances, attend science or learning fairs at the school).
Share your jobs, hobbies, special interests or experiences with your child's classmates if invited to do so by the teacher or school. Middle Years students are proud to have their parents share their knowledge or skills with their peers, even if they are shy, at first, with the idea of their parents presenting or helping at school.
Become a member of a school partnership council.
Attend parent-teacher and student-led conferences (see Parent-Teacher Meetings).
Ask your child's teacher for suggestions about how to be an active participant in your child's learning.
"I usually get confused if I don't use my agenda to write down all of my assignments and work that needs to
be done."

~ Middle Years student

"Parents play a crucial role in their child's learning.
As supportive learning partners, parents gain a deep understanding of their child as an individual, as a community member, and as a learner. Parents are encouraging role models who share their thinking, their strengths and challenges, their questions and curiosities, and their approaches to learning. Parents act as guides on the side, empowering their child to wonder about the world, search out and test theories, talk about their own and others' thoughts and ideas, explore solutions to problems and grow confident in their abilities to face challenges."

~ Teacher's remarks