Education and Early Childhood Learning
Middle Years Education in Manitoba
Grades 5 to 8
Students at the Centre
Successful learning in the Middle Years has a vital impact on students' high school completion and lifelong learning.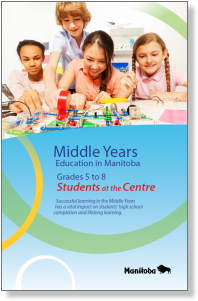 English Brochure (

665 KB)
Ukrainian Brochure (

739 KB)

The Middle Years Education in Manitoba: Grades 5 to 8 Students at the Centre brochure provides information about the developmental stages of young adolescents and the characteristics of Middle Years teachers and learning environments. The resource is intended to support teachers and principals who are new to Middle Years education and also as a refresher for those already implementing Middle Years pedagogy and practices.
---