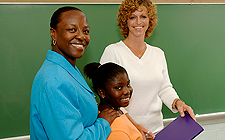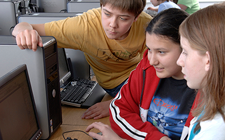 Changes in Adolescence
School Changes
Many young adolescents move to new schools or new areas in their school for the Middle Years. They sometimes worry and have fears about leaving their Early Years (Kindergarten to Grade 4) environment and about beginning Middle Years school. Middle Years students often meet new, and more, teachers, but they still need to feel a close connection to their teachers and their school.
Schools recognize the importance of close learning relationships between students and teachers and assign a homeroom teacher or a teacher-advisor
Teacher-advisor
A teacher-advisor is a teacher who meets daily or regularly with a small group (or an assigned group) of students to talk about problems, discuss current events or do planning and goal-setting with the students. for each student. The homeroom teacher or teacher-advisor is the main teacher. He or she is in charge of the student's progress and well-being and of the school's communication with the home. If you have any school concerns, you should first speak to your child's homeroom teacher or teacher-advisor. A phone call or a scheduled visit can help clear up concerns or questions.
School changes in the Middle Years include the following:
Goal-setting and self-assessment become part of everyday learning.
Students are expected to learn and practise higher-level thinking.
Students have a greater voice in the "life" of the classroom and in the school.
Students have more freedom and choices in projects, reading materials, learning styles, ways to express learning, selection of subjects, extra-curricular experiences, and so on.
"When my daughter moved from her elementary school to the middle school/high school, that was a huge change for her. I think I was more scared than she was . . . she was mostly excited. All summer she kept talking excitedly about going to the new school. The last week of summer, the excitement gave way to nervousness and uncertainty."

~ Parent of Middle Years student

"Middle school is difficult. Sometimes I'm just really stressed from school assignments, problems, friendships, and other activities like track. I have to balance my time between all of those things to make sure I get everything done. "

~ Middle Years student