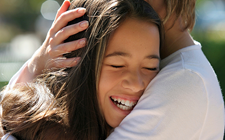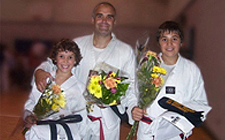 Helping Your Child Succeed
Help build your child's independence, self-esteem and self-confidence.
Tell your child all the good things he or she does (ex: "It was really nice of you to play ball with your little brother this afternoon.") Sincere, positive reinforcement is a powerful tool in shaping positive behaviour.
Give your child a hug or a smile. It may do wonders for your child's sense of well-being.
Compliment your child on his or her appearance and grooming (ex: "Your smile brightens my day.").
Surprise your child with notes of love, encouragement and reminders (ex: place a short, loving or funny note in your child's lunch box to brighten his or her school day).
Congratulate your child for doing his or her best (ex: "I know you studied hard for that math test and I'm happy for you that you did so well.").
Help your child grow in new experiences or skills. Encourage your child to try out for, or join, a school play, a sports team, a club or an activity.
Include your child in setting rules and expectations, and the consequences of breaking them.
Talk to your child about words to use in, and ways to handle, difficult situations (ex: "Next time you get into an argument with your sister and you think you're right, tell her, 'Let's agree to disagree.'").
Encourage your child to develop and express his or her own opinions.
"The worst possible thing that you [parent] could do is to compare me with other people, especially my siblings, because it hurts when you do that."

~ Middle Years student