Education and Early Childhood Learning
Technology Education
Youth Work Experience Hiring Incentive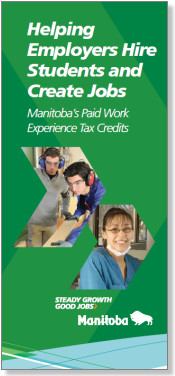 Registry of Approved Employers
Brochure (

197 KB)
Application Form (

97 KB)
This is a new tax credit available to Manitoba employers who hire a student that has completed a registered high school vocational course, spanning over 40 industries. This new Youth Work Experience Hiring Incentive provides 25 percent of wages and salaries, up to a lifetime maximum of $5,000 per student.
To be eligible for the credit, Employers must submit an an application form (

598 KB) for approval in order to be listed on the employer registry.
As part of the application, employers register as delivering employment experiences in one or more of the following three clusters used in Manitoba Education's classification system for Technology Education.
Light Industrial
Advertising Art/Graphic Design
Audio Recording Production and Performance/Sound Engineering
Drafting/Design Drafting
Electronic Communications
Electronics/Electronics Technology
Fashion Technology and Design
Graphic Arts/Print Media
Industrial Electronics
Information Science
Interactive Digital Media
Jewellery Arts/Jewellery and Metalsmithing
Microcomputer Systems Technician
Networking and Cyber Security
Photography
Production Art
Radio and Television Broadcasting/Broadcast Media Technology
Heavy Industrial
Agriculture
Aircraft Maintenance Technology
Autobody Repair/Collision Repair and Finishing Technology
Building Construction/Carpentry
Electricity/Electrical Trades Technology
Heavy Duty Mechanics/Heavy Duty Equipment Technician
Industrial Electricity
Machine Shop/Machining Technology
Metals and Aerospace Technology/Aviation and Aerospace Technologies
Mineral Science
Plumbing and Pipe Trades
Power Mechanics/Automotive Technology
Refrigeration and Air Conditioning
Resources and Environmental Management
Sheet Metal Works
Sustainable Energy
Welding/Welding Technology
Human Services
Baking and Pastry Arts
Child Care
Cosmetology (Esthetician)/Skin Care Technology
Dental Assisting
Dental Technology
Food Services/Culinary Arts
Hairstyling
Health Care Assistant - CVE
Hotel Hospitality - CVE
For information as to what specific courses are associated with each of the clusters and the related vocations, refer to the Subject Table Handbook - Technology Education.
Upon submission, applications will be reviewed for eligibility for this hiring incentive. Eligible employers will be notified and be listed on the registry of approved employers which will be housed on this site in the future.
Any employer listed on the registry who employs a student who has completed a course in the relevant cluster would be eligible for the tax credit. Employers are required to retain a copy of the student's transcript or report card (showing completion of the course) in case of audit, and would claim the credit on their tax return. Visit the Manitoba Tax Credit Office website for more information on this tax credit.
For more information about applying for this tax credit, contact: tve@gov.mb.ca
---