Technology Education
Middle Years Human Ecology
Manitoba Curriculum Framework of Outcomes
This document and specific sections are available for download as PDF

files.
Full Document (2.25 MB)
Feedback Form (101 KB)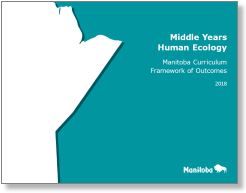 Specific sections:
Individual Grade Curriculum Framework of Outcomes:
---
Curriculum Implementation Dates
During voluntary implementation, teachers have the option of teaching the new curriculum as soon as Manitoba Education and Training releases it on the website. They also have the option of teaching the courses from the previous curriculum. Under system-wide implementation, all teachers in Manitoba teach the new curriculum and use the new course codes. Teachers will no longer be able to use the previous course codes.
Middle Years Human Ecology
Curriculum Implementation Dates
Date
Implementation
Course Code
Summer 2015
Available on website
Fall 2015
Voluntary Implementation
0482 Grades 5-8 Home Economics
0486 Grades 5-8 Human Ecology
Fall 2016
System-Wide Implementation
0486 Grades 5-8 Human Ecology
---