Education and Early Childhood Learning
Technology Education
Middle Years Human Ecology
Manitoba Curriculum Framework of Outcomes 2018
Curriculum Implementation Resources for Manitoba Teachers
Teacher support materials and workshop/conference resources are available on Maple (mapleforem.ca). Maple is Manitoba Education and Early Childhood Learning's private professional network with shared content available to all Manitoba educators.
This document and specific sections are available for download as PDF

files.
Middle Years Human Ecology (1.24 MB)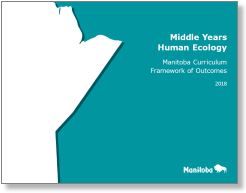 Specific sections:
---
Best Practice in Human Ecology
These best practice recommendations are a fundamental part of enhancing experiences/opportunities in Human Ecology programs/classrooms.
---