Drama
Manitoba Curriculum Framework of Outcomes
Kindergarten to Grade 8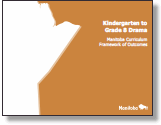 Interactive PDF (

2.52 MB)
Printable PDF (

1.05 MB)
HTML Format

The drama education framework provides the basis for learning, teaching and assessment of drama from Kindergarten to Grade 8 in Manitoba schools. The document identifies the learning outcomes for the drama discipline and forms the basis for the development of curriculum implementation resources. It is intended to assist teachers and administrators with drama curriculum implementation and with planning professional learning.
The drama framework document provides background information and implementation guidelines pertaining to the discipline of drama. It presents an overview of the framework, outlines the document components and organization, and identifies the essential learning areas and the general specific learning outcomes for drama education from Kindergarten to Grade 8 in Manitoba. An appendix, glossary, and bibliography are also included.
Print copies of this document can be ordered from the Manitoba Learning Resource Centre (formerly the Manitoba Text Book Bureau), stock number 80673.