Deaf and Hard of Hearing
Networking Day
Manitoba Education and Training, Deaf and Hard of Hearing Services invites you to attend the following event:
April 13, 2018 at Manitoba School for the Deaf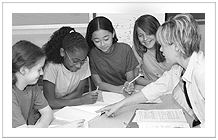 Networking Day is hosted by Manitoba Education and Training and provides opportunities for school staff and families to attend professional development workshops and to network. Opportunities are also provided for students who are Deaf/Hard of Hearing to develop skills and to socialize with peers.
Specific information and registration details will be available closer to the date of the event.
---